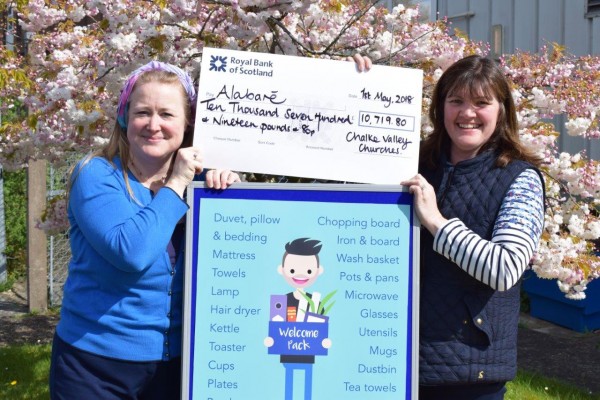 Alabaré are delighted to announce that nearly £11,000 has been raised for 'Welcome Packs' for homeless Veterans going in to the new Wilton Hill Veterans Village. The funds have been raised by the churches of the Chalke Valley, through a series of initiatives as part of their Lent project.
The Welcome Packs will contain a variety of household items for vulnerable Veterans' who are moving in to the development. They will contain everything a person needs from the mattress through to the mug.
The Wilton Hill Veterans Village is a pioneering initiative that will boast 44 flats for ex-service personnel and will also include enterprise space and access for Veterans to engage in training and employment support.
Rebecca Mullen, Alabaré's Fundraising & Development Manager says:
"The incredible generosity that the Chalke Valley Churches have shown towards Alabaré has been overwhelming. We see all too often Veterans coming to us with very little or in some cases nothing. These welcome packs will give those who come to us a great help in making the transition towards independent living."
Reverend Catherine Blundell, Team Rector, added:
"We too are delighted with the generosity of our community who really got behind the idea of the Welcome Packs for homeless Veterans, many of whom had themselves served in our Armed Forces.  This project was particular poignant knowing that we are marking the centenary of WW1 and looking at the needs of today's Veterans.  Once the village is up and running, we hope to further help the Veterans in their journey to independence through befriending and a good old cup of tea"
-Ends-
For more information or to arrange an interview call Harvey Taylor on 01722 344485.
Notes
At Alabaré we support people to overcome the barriers of homelessness, mental ill-health and learning disabilities in-order to have a home, health, choice and independence.
Alabaré Christian Care and Support provide the highest standards of accommodation and support to disadvantaged and vulnerable people in our communities in order that they can have a home, health, choice and independence. Since 1991, Alabaré have been working with people facing disadvantage through homelessness, mental ill-health, learning disability or a combination of these.  We provide housing and personalised support based on the individual needs and aspirations of each person, tackling underlying causes and giving them the skills and confidence to move forward with their lives. www.alabare.co.uk