The impact of the Coronavirus outbreak has been particularly hard felt by charities and those who they support. The day-to-day operations are now being forced to adapt whilst new, innovative ways of fundraising are also required with traditional events off the schedule. For Salisbury-based homeless charity Alabaré, the way in which they help the homeless has had to completely change. The current advice from the government is to 'Stay home and save lives' but when you are homeless or living in shared accommodation, how feasible is that?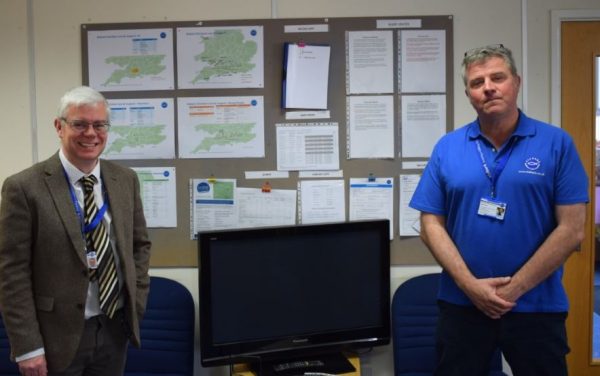 Andrew Lord, Alabaré's chief executive explains how the charity are managing in these testing times;
"Our teams are adapting every day to new situations, all the time making sure clients and residents get the care they need. Right now, Alabaré are providing emergency and self-isolation support, supported accommodation as well as outreach support in our local communities. We are providing telephone support to clients who would normally attend our Development Centres, and our new mental health outreach service, Alabaré Riverside Sanctuary is providing additional help to people who are struggling to cope in these difficult times. I am so proud of every member of our teams for the lifesaving work they are doing. Our charity's values resonate now even more than ever; care, compassion, generosity and respect."
Whilst the charity's headquarters are in Salisbury, its services extend across the South-West of England as well as throughout Wales. In order to co-ordinate essential items and necessary support to be distributed across the charity, an operational room has been set up at its head office. From here a dedicated staff team are working to allocate items such as hand sanitiser, cleaning products and food items to each of the homes. Leading up this service is Neil Hunt, a member of Alabaré's fundraising and marketing team who has 23 years' experience in the army. Neil's military career saw him serve in tours of Northern Ireland, Bosnia, Kosovo and Iraq and he brings a wealth of skills to the operation, including the importance of communications across the organisation.
"We have set up the operations room in order to be able to successfully manage the unprecedented challenges the Coronavirus has posed to the charity. The room is manned from 9am – 11pm, seven days a week in order to ensure that staff right across Alabaré can access support and guidance during an uncertain time for all of us. We are working with each of the homes to ensure they have the required supplies in order to keep service users and staff safe. We are really grateful for the support we have received from the local community."
Donations of food items have been coming in from local branches of Waitrose, Bookers and Greggs. In addition, local stores and restaurants in Salisbury who have been forced to close as a result of the outbreak have also donated good, including Alium Restaurant and Roly's Fudge.
Alabaré have also been working closely with other local non-profits in order to help distribute resources with many now unable to raise funds over the coming months. They have supported fellow Salisbury-based charity The Trussell Trust to share donated bakery items whilst they have also been working with Chilmark-based emergency response charity Serve-On.
Local businesses, schools and churches have done their bit to support Alabaré but the charity is in urgent need of funds in order to continue its vital work. After having to postpone its entire fundraising programme for the next six months and with each of its charity shops having to close, Alabaré urgently need to raise funds to cover the costs.
Rebecca Mullen, Alabaré's Fundraising and Development Manager added –
"We have already begun to feel the financial implications of the Coronavirus outbreak. We have had to postpone all our fundraising events for the next six months as well as close each of our charity shops. We are incredibly thankful for the support we have received so far but the truth remains that we urgently need to raise additional funds to cover the shortfall in income caused by the virus"
Alabaré are appealing to the public to support them.
To find out more about Alabaré's emergency appeal and to donate, please visit – https://www.justgiving.com/campaign/appeal
For more information or to arrange an interview call Harvey Taylor on 01722 344485.
Notes
At Alabaré we support people to overcome the barriers of homelessness, mental ill-health and learning disabilities in-order to have a home, health, choice and independence.
Alabaré Christian Care and Support provide the highest standards of accommodation and support to disadvantaged and vulnerable people in our communities in order that they can have a home, health, choice and independence. Since 1991, Alabaré have been working with people facing disadvantage through homelessness, mental ill-health, learning disability or a combination of these. We provide housing and personalised support based on the individual needs and aspirations of each person, tackling underlying causes and giving them the skills and confidence to move forward with their lives.