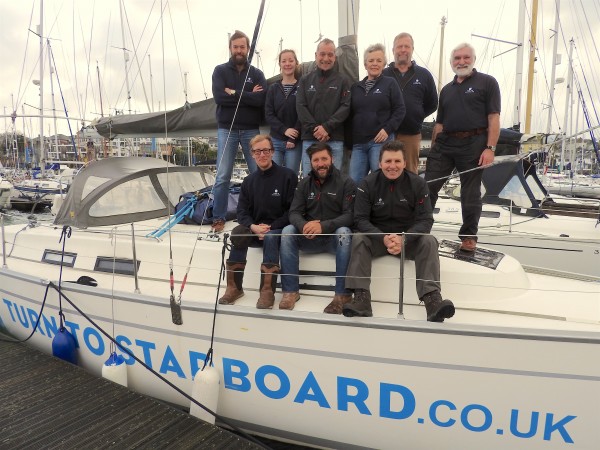 A new charity challenge is looking for supporters to help raise £100,000 in a year for a training boat to help injured veterans.
The Float-A-Boat campaign hopes to raise £100,000 during 2018 for the sailing charity Turn to Starboard – to help meet demand for its sail training service for veterans affected by military operations and their families.
As well as taking part in key fundraising events including a 24-hour life raft survival challenge, 'It's a knockout' competition and a coastal obstacle course, supporters are invited to make a donation by text message or create their own fundraising event.
The initiative was set up by the Falmouth-based charity who help injured veterans gain sailing qualifications to help start new careers in the marine industry. They also offer sailing trips to Service families affected by operations to spend time together on a skippered yacht.
Turn to Starboard CEO and founder, Shaun Pascoe said: "Since 1991, more than 235,000 servicemen and women have served on our behalf – and many will have been to Northern Ireland, Bosnia, Iraq or Afghanistan multiple times.
"Recent research shows that at least 66,000 need some kind of support with mental or physical health needs in the years to come, and we feel humbled to play a part in helping many to move on with their lives. However, the demand for our service is exceeding capacity and we need an additional training boat to help more veterans gain new skills and qualifications which will help them long into the future.
"This is a significant challenge for us, but we hope everyone will join our team and reach the £100,000 target by the end of the year. We just need to pull together – so if you are interested please do get in touch."
The Float-A-Boat campaign is a first for the charity, who traditionally fundraise through major military organisations, grant making trusts, corporate partners and individual donors. It recently reached a major milestone after providing 1000 sailing opportunities to injured veterans – just three years after setting up.
Supporters can get involved by texting TURN25 £10 to 70007 to make a £10 donation to the campaign. Other donation amounts are £1, £2, £5 or £10 and a standard message rate will also apply (e.g. TURN25 £5).
Donors are invited to share boat-related selfies on Twitter using the hashtag #FAB to help the charity create a gallery as a tribute to their support.
For more information about the charity and how to get involved with the campaign, call Events Co-ordinator Neil Triggs on 01326 314262 or email neil@turntostarboard.co.uk.
-End-
For immediate release
Image caption: Staff from Turn to Starboard are appealing for supporters to help raise £100,000 in 2018
Turn to Starboard Office: 01326 314262
Email us at: info@turntostarboard.co.uk
Website: turntostarboard.co.uk.
Follow Turn to Starboard on Twitter: com/turntostarboard
Find Turn to Starboard on Facebook: com/turntostarboard
Or write to us at: Turn to Starboard, Falmouth Marina, North Parade, Falmouth, Cornwall, TR11 2TD
Notes to Editors
Turn to Starboard is a Cobseo registered charity using RYA sailing courses to support Armed Forces personnel who have been affected by military operations. We support those who are Serving or Retired and their families.
We help those retired from the forces and those still serving to get perspective on past events and focus on a successful future.
Beneficiaries gain tangible experiences, expert training and career-building opportunities including the chance to gain internationally recognised marine qualifications.
Registered Charity number 1148549
For further media information, please contact: Mark Hardaker by calling 01326 314262 or emailing mark@turntostarboard.co.uk.