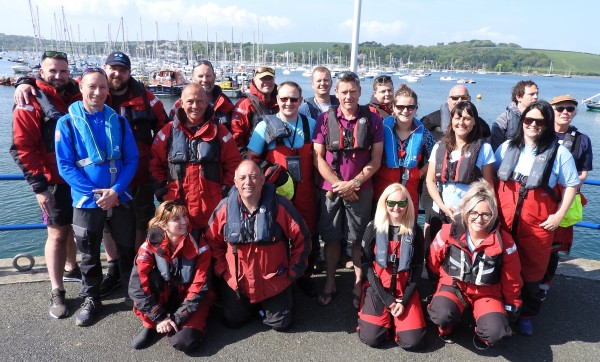 A team of volunteers have completed a bid to live on two life rafts for 24 hours to raise money for a sailing charity.
The team's task in Falmouth Harbour, Cornwall, started on Friday at 17:00 BST. The fundraising event was held in aid of Turn to Starboard, a charity supporting injured veterans by taking them sailing.
Organisers said volunteers were tasked with writing songs, drawing pictures and modelling dough during the fun challenge, with a support crew judging results.
Participants smashed a £2000 fundraising target to raise in excess of £8,000 as part of the charity's Float-A-Boat campaign, which aims to raise £100,000 through the year for a new training boat.
In two groups, the 20 crew members spent 24 hours aboard two life rafts.
Fundraiser Chris Wood said it was "like being on a waterbed in a tent", and "surprisingly comfortable" throughout the night.
"By having such a great group of people involved we didn't get chance to get bored, with lots of laughter throughout the day. The worse bit was get slightly frazzled in the sunshine during the final hours, yet it was a real privilege to be part of something raising money for such a great cause."
Turn to Starboard believe sailing has a therapeutic effect on those affected by military operations. The charity helps military personnel affected by operations to gain sailing qualifications to help start new careers in the marine industry.
The charity has provided more than 1100 sailing opportunities to injured veterans since it was launched four years ago.
Event organiser Neil Triggs said: "We would like to say a huge well done to the team for taking on this challenge and a big thank you to South West Life Rafts, Falmouth Haven for our mooring and use of the quay, Rick Stein and Pizza Express for providing hot food, and to all our sponsors who kindly donated to the campaign."
To make a donation, visit turntostarboard.co.uk.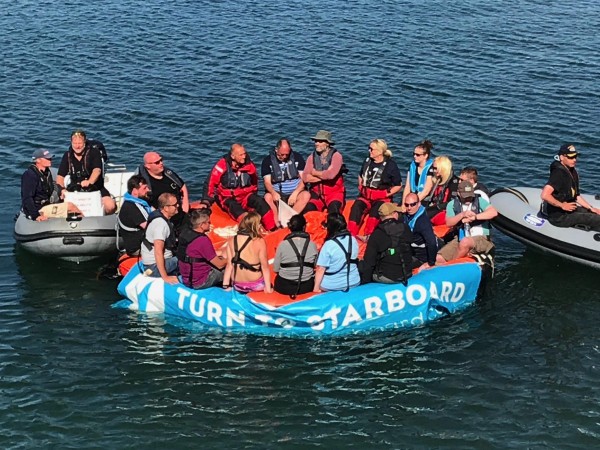 -End-
For immediate release
Turn to Starboard Office: 01326 314262
Email us at: info@turntostarboard.co.uk
Website: turntostarboard.co.uk.
Follow Turn to Starboard on Twitter: com/turntostarboard
Find Turn to Starboard on Facebook: com/turntostarboard
Or write to us at: Turn to Starboard, Falmouth Marina, North Parade, Falmouth, Cornwall, TR11 2TD
Notes to Editors
Turn to Starboard is a Cobseo registered charity using RYA sailing courses to support Armed Forces personnel who have been affected by military operations. We support those who are Serving or Retired and their families.
We help those retired from the forces and those still serving to get perspective on past events and focus on a successful future.
Beneficiaries gain tangible experiences, expert training and career-building opportunities including the chance to gain internationally recognised marine qualifications.
Registered Charity number 1148549
For further media information, please contact: Mark Hardaker by calling 01326 314262 or emailing mark@turntostarboard.co.uk.