Worthing-based charity, Care for Veterans, has received a donation of £26,000 from The Sussex Masonic Charitable Foundation towards the refurbishment of its two lifts.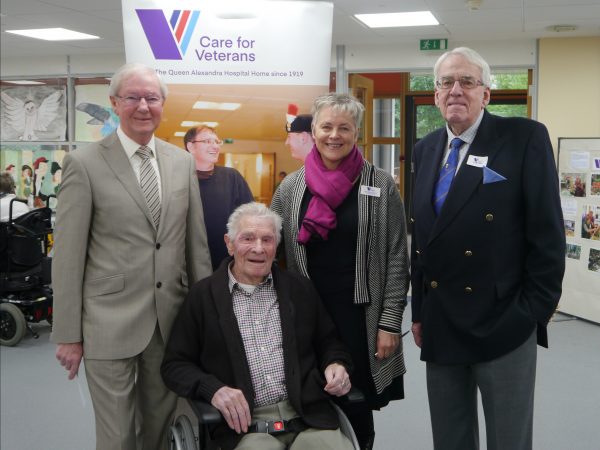 Care for Veterans is a 60-bed facility that provides residential nursing care and rehabilitation to physically disabled ex-Service personnel and their families and is split across three wings. Whilst two of the wings are situated on the ground floor, the Alexandra Wing is on the first floor. It was built in 2006 in order to meet the increased demand for the charity's services. The 22 rooms on Alexandra Wing are modern, en suite rooms, each with overhead hoists and state-of-the-art facilities, that the resident veterans require.
All 22 residents on Alexandra Wing are wheelchair users and the only access up and down is via two wheelchair accessible lifts. Because of their age and continuous use, the units have started to malfunction which creates problems with the day-to-day running of the wing.
A Senior Nurse on the Alexandra Wing said,
"The continuous breakdowns lead to delays in getting residents to their therapy sessions and mealtimes, causing disruption to rehabilitation sessions and group activities. It doesn't take much for vulnerable individuals to lose their confidence and stop using the lifts on their own. It's important that residents feel confident with the lifts in order to maintain their levels of mobility and independence."
Care for Veterans has now successfully raised all of the money needed for the project, and work to refurbish the lifts begins at the end of March.
Grahame Carr, Trustee, Sussex Masonic Charitable Foundation, said,
"I have been a long time supporter of the excellent work and care provided by the staff at Care for Veterans and I am delighted that, as Sussex Freemasons, we are able to provide help and assistance to an important veterans care organisation within our Sussex community."
Trusts and Foundations Officer at Care for Veterans, Kim Bowen-Wood, said,
"We are extremely grateful to The Sussex Masonic Charitable Foundation for their very generous donation. At Care for Veterans, retaining independence for our residents is one of our main objectives. The issues caused by the broken lifts are a concern for all of us here, so it is imperative that we replace the lifts as soon as possible so that we can continue to meet the highest standards for health and safety, compliance and reliability. On behalf of our veterans I would like to take this opportunity to thank the Sussex Freemasons for their very generous support."
About Care for Veterans
Care for Veterans (formerly The Queen Alexandra Hospital Home) was established in 1919 – the charity celebrated its centenary last year.
Care for Veterans is a registered charity, providing care and rehabilitation for physically disabled ex-Service personnel and their families. Our residents' needs are complex and many have multiple disabilities. Many have an Acquired Brain Injury and some have neurological disorders such as Parkinson's or Multiple Sclerosis. Others are paralysed or do not have use of their limbs and some are terminally ill. We support on average 140 residents a year.
We care for up to 60 residents at any one time.
Our residents are aged between 34 and 96.
Our residents represent the tri-services: Royal Navy, Army and RAF.
Services at Care for Veterans include nursing, physiotherapy, occupational therapy, neuropsychology, speech and language therapy, an active social and recreation department, rehabilitation kitchen, a chaplaincy service, counselling, IT facilities, a rehabilitation garden, sensory room, function room, and regular outings on our specially adapted coach.
With no regular government funding, Care for Veterans must raise over £1.9 million each year to maintain its nursing and rehabilitation services for ex-Servicemen and women.