Southerndown golf club in the picturesque Vale of Glamorgan is to be the setting for a charity golf tournament that will raise vital funds for SSAFA, the Armed Forces charity.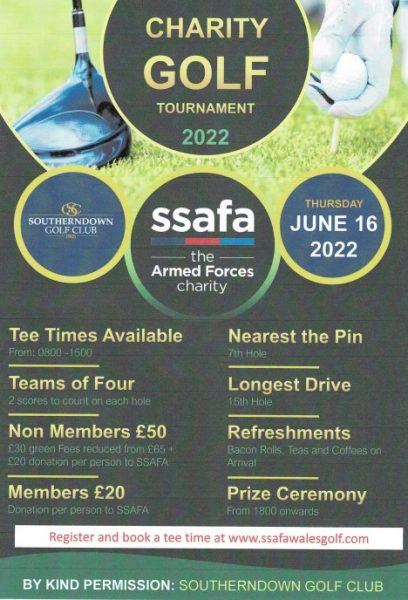 Taking place on 16 June 2022, the tournament tees off at 08.00am until 15.00pm. Members of the club can enter with a £20 donation, non-members for £50. This includes the green fee.
Refreshments will be available so contestants can be at their peak performance during the competition. After a day on the green, the prize ceremony will take place around 18.00pm.
Colonel Stephen Thomas CBE, the SSAFA Regional Representative Wales, said,
"SSAFA, the Armed Forces charity is the oldest tri-service military charity and we have been in operation since 1885.The aim of our charity golf day at Southerndown Golf club is to raise funds for SSAFA in Wales to enable us to help those servicemen and women and families in the Principality who require support. All the donations from the day will stay in Wales".
Southerndown Golf Club is a traditional private members' golf club that dates back more than 100 years. It boasts a quaint clubhouse that overlooks one of the finest golf courses in Wales.
To find out more about the SSAFA charity Golf Tournament visit ssafawalesgolf.com