Loved ones of veterans who have been emotionally or physically affected while serving in a military role are being sought for a major new educational project chronicling the impact of war on families.  Thanks to support from National Lottery players, Veterans' charity The Legasee Educational Trust is joining forces with Help the Heroes Band of Sisters and the Armed Forces Covenant to launch the project, which is entitled The Military Family: A Life of Service.
Funded by the National Lottery Heritage Fund, The Military Family: A Life of Service will record the personal accounts of partners and family members of former serving personnel to explore how carrying out military duties can not only affect veterans, but also impact on those closest to them. The final interviews will sit on the Legasee Educational Trust's extensive video archive and provide a valuable educational resource for those wishing to research the impact of war on families and the role they play in the recovery process.  High quality copies of the films will be held by the Royal Amoury Museum in Leeds, while an exhibition interpreting the history will be created which will tour venues in North Yorkshire and end in a permanent exhibition at Catterick Library.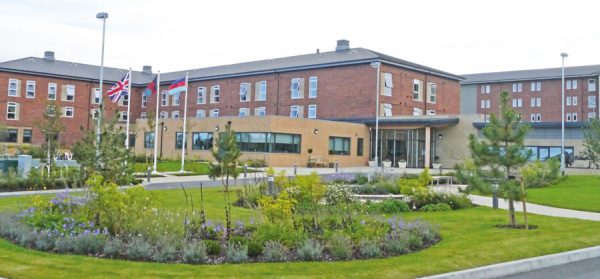 The filming team has already visited the Help for Heroes Recovery Centre, Phoenix House in Catterick Garrison in Yorkshire, to hear the experiences of some members of the Band of Sisters – a peer support network made up of wives, husbands and partners, parents and children of soldiers and veterans – and is now searching for more families across the UK with interesting stories to tell.
One hundred years after shell-shocked and injured men returned from the battlefields of the First World War, and 80 years after the beginning of WWII, many families are still fighting for their injured loves ones, long after they fought for their country. Some are known to the military charities that support them, many are not.  Legasee's experienced team would like to hear from those who have been caring for former service men and women, to show appreciation for the daily battles they continue to endure.
"We are very used to hearing the first hand testimonies of service personnel and veterans and rightly so," says Martin Bisiker, Trustee, The Legasee Educational Trust.  "What we're not so used to hearing about are the personal stories of their partners and families and the huge role they play in the support and recovery effort.  We've already heard some fantastic accounts and would be very interested to hear from others.  It's really important that their voices are heard and their contribution acknowledged."
If you have, or know anyone who has, interesting stories about the impact of war on military partners and families please contact info@legasee.org.uk.  For further information visit www.legasee.org.uk
Media Contact, Legasee Educational Trust: Beverley Wilkins, beverleywilkins@sky.com, 07525 042572
Notes to Editors:
About Legasee Educational Trust
Legasee Educational Trust is a charity set up to record the experiences and observations of all veterans of conflict from WWII to present day "to create the largest online film archive of this aspect of our social history that be used for education, learning and better understanding for today's generation and many generations to come'.  Legatee's film archive is well regarded and used to support educational projects, museums, media and publications in the UK and Europe.  Follow @legasee_archive #legasee_veterans
About Help for Heroes Band of Sisters
The Help for Heroes Band of Sisters is a membership network open to the close supporting family members (including partners who have been together for over 12 months or are living together) of Veterans, Service Personnel and those who have served alongside our Armed Forces who have been wounded, injured or sick during, or as a result of, their Service and resulting in an ongoing need for support.
Follow @HelpforHeroes – #HelpforHeroes
About the National Lottery Heritage Fund
Using money raised by the National Lottery, we inspire, lead and rescue the UK's heritage to create positive and lasting change for people and communities, now and in the future.
http://www.heritagefund.org.uk
Follow @HeritageFundUK on Twitter, Facebook and Instagram and use #NationalLotteryHeritageFund
About The Armed Forces Covenant Fund Trust
The Armed Forces Covenant Fund Trust makes grants to support the Armed Forces Community.  We manage the grant programmes funded by the Covenant Fund. We also run wider funding programmes that support the Armed Forces Community. The people who benefit from our grants are from the Armed Forces Community. This includes serving personnel, families, veterans and families of veterans.
Follow @CovenantTrust