A UK charity has come to the aid of supporting veterans living at Launchpad's Avondale House in Newcastle-upon-Tyne during the current Covid-19 lockdown.
Emmanuel Global Network UK (Ltd) is a registered charity, which donates and helps vulnerable people and communities affected by natural disasters such as earthquakes and tsunamis, including the current Covid-19 pandemic.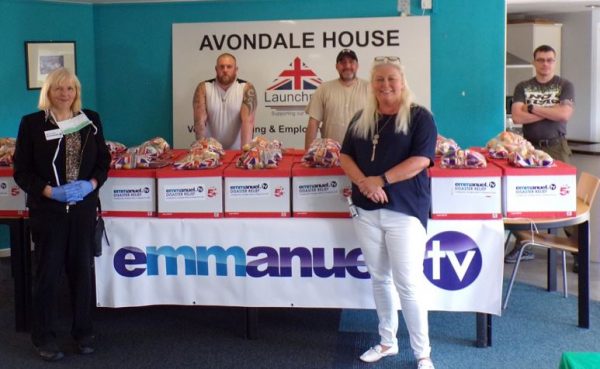 The charity has donated £600 and delivered 29 food boxes of fresh produce and staple foods to all the veteran residents living at the house in Byker.
Launchpad provides accommodation and support to help veterans stabilise their lives and make a successful transition from military to civilian life. The house provides self-contained, one-bedroom flats for up to 32 residents.
Local Byker resident Olivia Manzungu volunteers for Emmanuel Global Network and highlighted to them the great work that Launchpad is doing.
The boxes were very well received by the veteran residents at a time when it is difficult to get access to fresh food and essentials.
Each box contained a selection of fresh fruit and vegetables, meat, dairy and staple foods such as cornflakes, sugar, tins of custard and tinned ham. They were also provided with essential items for their own individual flats such as toilet rolls and washing power.
Emmanuel Global Network charity coordinator Fiona Tonge, explained,
"We wanted to give something back to the veterans and the veterans' charity for the great job they did to fight for the freedom of this nation and to support them during these difficult times. We are blessed to bless others; each of us has something, however small, to contribute to help our fellow citizens, especially those such as our veterans in such challenging times."
Ian who is a resident at Avondale House, said:
"It's really nice that people are thinking of us at times like this. Especially for another charity to come out and support us and putting us before themselves. I'm just so grateful."
Callum, who is also one of the veteran residents, said:
"I was over the moon to receive my food box. I couldn't believe there were people out there that cared. It was the first time someone has thought of me and cared enough about me to give me something. I really appreciate their kindness."
David Shaw, CEO and Founder of Launchpad, commented:
"On behalf of the Trustees and all of us involved in Launchpad, I would like to thank Emmanuel Global Network UK (Ltd) for this generous donation to the residents of Launchpad's Avondale House in Newcastle-upon-Tyne. Our veterans are keeping their distance and some are isolating due to underlying health issues, so these food boxes and the monetary donation are very welcome and have come at a convenient time."
Last year, Launchpad, which also has a house in Liverpool, supported 157 veterans and has helped 455 veterans since 2013. 42% of residents left Launchpad with jobs. 69% successfully moved on to settled accommodation, either living independently, reunited with family or with the support they needed.
For more information on this press release, please contact Craig Downs from Up North Communications on 0191 300 0810, 07811 287 922 or email craig@upnorthcommunications.co.uk
Photo caption (Note: This was a different photo taken pre-lockdown.)
Veteran residents at Avondale House in Newcastle upon Tyne received food boxes courtesy of Emmanuel Global Network UK (Ltd).
Notes to Editors:
AF&V Launchpad is a registered Charity Number 1153185 and Company Number 8633047.
For more information about Launchpad, please visit www.veteranslaunchpad.org.uk
Launchpad welcomes donations to support its veterans, through its website
Key partners that Launchpad work with are: Liverpool City Council, Newcastle City Council, Big Lottery, ABF The Soldiers' Charity, Royal British Legion, Veterans' Foundation, Forces Employment Charity, Addaction, Crisis Skylight, the NHS, SSAFA, Speke Training and Education Centre and Combat Stress, among many others.
Achievements in the last year have been as follows:
At the end of December 2019, the total number of veterans helped since Launchpad opened in 2013 is 455.
42% of residents leave Launchpad with jobs.
69% successfully move on to settled accommodation, either living independently, reunited with family or with the support they need.
Launchpad won the 'Working Together' award in the national 'Soldiering On Awards' and two founders were awarded the Prime Minister's 'Point of Light".
Launchpad won The Veterans' Foundation award at the Heropreneurs Awards 2019.