On 1 May 2019, Chelsea Pensioner Mike Smith will be attempting his 100th parachute jump at an event to raise funds for a charity that is very close to his heart, The Taxi Charity for Military Veterans. Mike will be joined by two Taxi Charity committee members' wives, Susy Goodwin and Anne Parsons.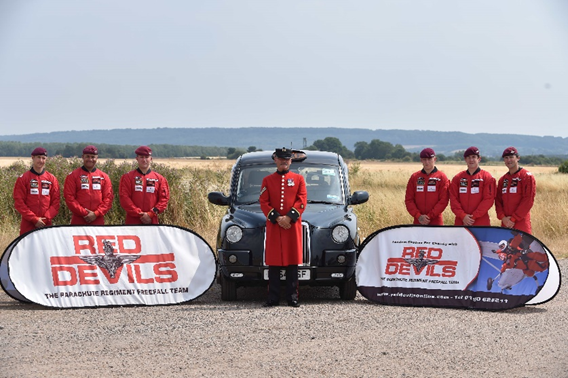 The wives are being sponsored to skydive for the Taxi Charity for Military Veterans, to raise funds for trips, including this year's 75th anniversary D-Day visit in June, when the charity will take 30 veterans, in London black cabs, to Normandy.
It will be the first tandem skydive for both Susy and Anne who will be in the capable hands of the famous Red Devils and their jumping hero Mike Smith.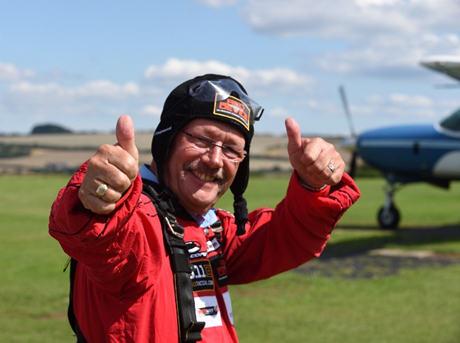 Mike Smith, says,
"I can't wait to complete my 100th jump on 1 May. It doesn't seem two minutes since I was doing my first one! I am delighted to be joined by first timers Susy Goodwin and Anne Parsons, two of the Taxi Charity Committee members' wives who are raising funds for this amazing charity, that does so much to support veterans from all conflicts. My advice to them is to enjoy every second and breathe."
Note to Editors
Location – Old Sarum Airfield near Salisbury
Date – 1 May 2019
About Mike Smith
Mike Smith who served with the Royal Army Service Corps as an Air Despatcher is an In Pensioner at the Royal Hospital Chelsea.
About Susy and Anne
Susy Goodwin will be carrying Ted Pieri's beret when she jumps. Ted Pieri was a member of 250 Light Composite Coy. RASC. 1st Airborne Division and very well-known by everyone at the Taxi Charity. Over the years, he joined the charity for many events and trips – and was also the first person to do a fundraising skydive. Ted passed away in January aged 92.
https://www.justgiving.com/fundraising/susy-goodwin-taxi-charity
Anne Parsons will be dedicating her skydive to the memory of family friend Major Justin van der Pant, late 7 Para RHA. Justin died in 2016 at the age of 48. Ted's son, Ian and Justin's widow, Jennifer, will be travelling to Old Sarum to witness Susy and Anne's tribute jumps.
https://mydonate.bt.com/fundraisers/aparsons1skydive
About the Taxi Charity
The Taxi Charity for Military Veterans was formed in Fulham in 1948, to work for the benefit, comfort and enjoyment of military veterans and arranges many trips every year for veterans from all conflicts. The charity offers international trips to Holland, Belgium and France, UK day trips to concerts or museums, transport to attend fundraising events, as well as special days out to catch up with friends and comrades. To fund and facilitate these outings, the charity is wholly reliant on generous donations from members of the public, businesses and trusts and the amazing group of London licensed taxi drivers who offer their time and vehicles free. To find out more about the charity or to donate visit the website http://www.taxicharity.org
For more information please contact
Christina Bowden
Bowden PR
07984 433614
christina@bowdenpr.co.uk
www.bowdenpr.co.uk