It was perhaps less a welcome in the hillsides, and more a walk along a stretch of the M48, but crowds of well-wishers and supporters saw former Paratrooper Chris Lewis back into Wales on the Severn Crossing this afternoon (July 5) on the last leg of this adventure.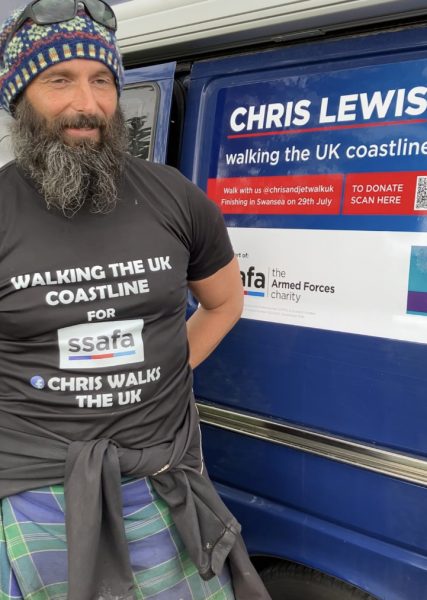 And what an adventure.
Chris stepped off from Llangennith Beach in the Gower Peninsula in August 2017 to circumnavigate the UK coastline and to raise funds for SSAFA, the Armed Forces charity. The total raised so far for SSAFA from this odyssey stands at around £332,000, which will allow the UK's oldest tri-service charity to carry on its life-changing – and sometimes life-saving – work.
This symbolic striding back into Wales after so long away – six years that saw a pandemic and the country shut down for the best part of a year, but more happily also saw Chris befriend a dog, Jet, find a partner, Kate, and have a child, Magnus – marks the final leg of this epic journey of thousands of miles.
An emotional Chris said:
"Now that I'm so close to home, there's a lot coming back from when I first started and how I felt.

"And while it's not something I thought I'd say about myself, but I'm proud, proud that I've done something and seen it through, well a, I'm nearly there and I'll make it.
He described the people who have helped him, as well as Jet, Kate, and Magnus – and who have donated to SSAFA – as
"the kindest, the most generous people", adding: "I've met so many people, talked with so many people and listened to their stories, and just as my story has touched them, their stories have touched me."
But it's not over yet for Chris and family. He has just short of four weeks' walking left before this adventure ends on Rhossili Beach on July 29, and as he has suggested, a new one begins.
"This walk has been the catalyst for what we're going to do next , and it's going to be something outrageous, because that's what we love doing."
To support Chris as he supports SSAFA, visit justgiving.com/fundraising/chriswalks.