160 bereaved military children enjoy a virtual Christmas party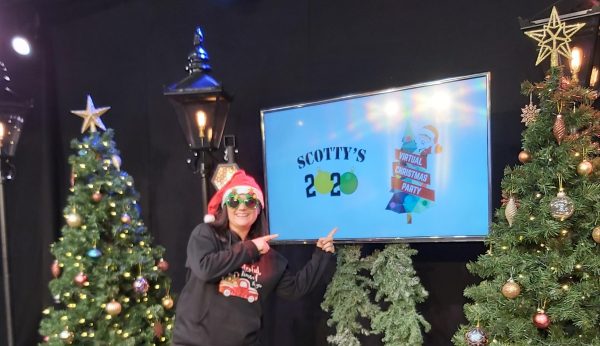 Every December, Scotty's Little Soldiers, the charity for bereaved military children, organises a special Christmas party to bring its members together and remind them they aren't alone, and this year even Covid-19 couldn't spoil their fun. The 2020 Christmas party took place virtually last weekend (5 December), meaning Scotty members could join via Zoom from the comfort of their own homes, and the fantastic mix of games, crafts, dancing, science experiments, celebrity messages and a special appearance from Father Christmas, made it a party to remember.
The event, attended by 160 children, all who have a lost a parent who served in the British Armed Forces, was hosted by creative events company, Sharky and George, and the expert entertainers pulled out all the stops to make sure there were smiles all round.
Prior to the party, all the members were sent party packs which included a branded event t-shirt, a Scotty Santa hat, Christmas glasses, Scotty flags, plus everything they needed for the party's activities, including chocolates, slime making kits, brownies and decorations.
The party lasted for two hours and the children were split into groups to take part in different activities including science experiments, cookery, arts and crafts and competitions.
The Scotty members were then all brought together for a magical appearance from Father Christmas and some very special Christmas video messages from celebrities including Ant and Dec, Piers Morgan and Susanna Reid, Bear Grylls, Ben Fogle, Strictly Come Dancing stars JJ Chalmers and Amy Dowden, actor Warren Brown, magician Richard Jones, Britain's Got Talent finalists Soldiers of Swing, Coronation Street's Antony Cotton and Emmerdale's Mark Charnock. Servicemen and women from all three Services also sent them Christmas wishes in honour of their lost heroes.
Scotty's Little Soldiers was founded in 2010 by war widow Nikki Scott, a year after her husband, Corporal Lee Scott, was killed in action in Afghanistan. Nikki saw the devastating impact on their two young children and wanted to help others in the same situation.
Scotty's is always there for bereaved British Forces children and young people to remind them they are not alone. This includes offering wellbeing care and providing educational support and grants, respite breaks for families that need to get away, and gifts at extra difficult times of the year. Scotty's also connects bereaved Forces families with others in the same situation by arranging events and activities to help them to feel part of a supportive community.
Nikki Scott, Scotty's Little Soldiers founder, said:
"We know how much the annual Christmas party means to the Scotty members, so we were determined to make sure it still happened this year. We've seen the terrible impact the pandemic has had on many of the children we support – they are already suffering the impact, trauma and challenge of navigating parental loss, so this crisis on top is so hard for them. This year's Christmas party was obviously very different, but whether a party is virtual or in person, the important thing is that it brings the children together with others in the same situation."
Nikki continued:
"It was amazing watching the screen and seeing so many happy faces. The kids were on their feet, joining in with the activities and interacting with their friends. We were so honoured to receive so many wonderful video messages for the children. These young people are all so special andhave been through so much, so to receive messages from their idols meant a lot to them. The children's faces were priceless."
Caroline Hill, mum to 11-year-old Sebastian, whose dad, Rev'd John Hill MBE, sadly died in June 2010, said:
"Thanks very much for a fabulous virtual party. Great activities, amazing goodie bag and super messages from Santa and the celebrities. You've smashed it this year. Who'd of thought we'd be so virtual in 2020. Love and Christmas Wishes to all our friends in the Scotty's Family."
Lindsay Marie Roberts, mum to three Scotty members, Kyle, Kayla and Jessica, said:
"What a fantastic virtual party. Well done to all the team at Scotty's. The kids were well expressed with the appearance of Ant and Dec, they loved all the activities and had so much fun. They are already asking when the next event we can sign up for is. Thank you for everything you do to keep our kids smiling. Wishing you all a very happy Christmas."
Laura Lockwood, mum to Bella (10) and Evie (9), who lost their dad SSGT Michael Lockwood, said:
"A huge heartfelt thank you from the girls (and me) for an absolutely epic virtual Christmas party. To all that were involved, you made our house happy and alive on a day that was hard for us (being daddy's birthday). Regardless of the messy living room, it was so good to see the girls smiling from ear to ear. We're truly grateful."
A huge thank you to the Lest We Forget Association for funding the event.