Scotland's capital city is gearing up to host what has become one of the firm fixtures in its calendar. Organised by Poppyscotland, the seventh annual Edinburgh Poppy Day will feature more than five fun-packed hours of live music and entertainment.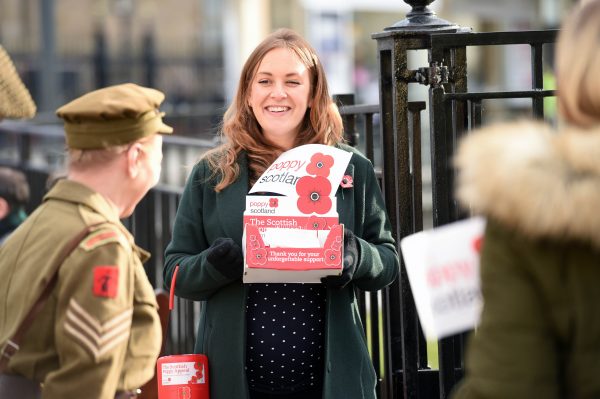 It is hoped that the buzz of the occasion will encourage passers-by to dig deep to help raise funds to boost the charity's work in supporting the Armed Forces community in Scotland following last week's launch of the 2019 Scottish Poppy Appeal. Last year, more than £15,000 was raised on the day.
Edinburgh Poppy Day, which takes place tomorrow (Friday, 1 November), runs from 10am to 3:30pm in St Andrew Square and other locations. Along with a bounty of music and entertainment there will be historic military vehicles on hand for visitors to explore and learn about.
Working in partnership with Poppyscotland to provide the day's concert and roadshow will be Forces Radio BFBS Scotland, and this year's performers include star of ITV's The Voice and the Legion Scotland sweetheart Amy Hawthorn. Amy will be joined on stage by Laura Connolly, Megan Adams, Richard Kerr, Alan Brydon and Stuart and Fraser Mclean, among others.
There will also be music from the 3 SCOTS The Black Watch Pipes and Drums at the Edinburgh Garden of Remembrance, beside the Scott Monument, at 11:30am, before they, too, head to St Andrew Square to perform on the BFBS stage at 1:30pm.
New for this year is the appearance of Poppyscotland 'Bud' – an 18-tonne custom-built truck that is travelling the length and breadth of the country to teach communities across Scotland about the importance of remembrance and the heritage of the poppy. Performing in front of 'Bud', which will be located in Castle Street, will be the George Heriot's School Pipe Band (from 12:15pm onwards). 3 SCOTS will also make an appearance beside Bud (at 2:30pm).
Gordon Michie, the Head of Fundraising at Poppyscotland, said:
"It's fantastic that the people of Edinburgh – along with the many visitors to the city – join us in St Andrew Square and other notable venues in the capital to enjoy an exciting day jam-packed with music and entertainment.

"We are delighted to be working with Forces Radio BFBS to stage the St Andrew Square concert and we are extremely grateful to them for the continued support.

"Edinburgh Poppy Day is one of the pivotal days in the period of Remembrance and it is an event that has grown steadily in popularity since it was first held back in 2013. Last year, we raised an incredible £15,000, but we are always on the lookout for volunteers to help collect for an hour or two on the day."
BFBS presenter Mark McKenzie said: "Forces Radio BFBS is delighted to be supporting Poppyscotland's Edinburgh Poppy Day again this year, bringing a flavour of the day to our audience including those serving around the forces world. It gives us the chance to highlight the vital support Poppyscotland provides all year round and Jim Gellatly and I get to introduce some amazing performers on the BFBS stage in St Andrew Square."
Ends…
Notes to Editors
For further information and all media enquiries, please contact David A. Findlay, PR Manager at Poppyscotland, on 079797 35611, or email at d.findlay@poppyscotland.org.uk.
Forces Radio BFBS Scotland broadcasts from Dreghorn Barracks, Edinburgh on 98.5FM across Edinburgh, 87.7fm in Inverness, on DAB+ in Glasgow and 1287am in Glencorse.
Images are free to use. Where appropriate, please credit Mark Owens/Poppyscotland.
This is the seventh annual Edinburgh Poppy Day. In 2018, £15,846.96 was raised.
Poppyscotland provides life-changing support to the Armed Forces community. Money raised from the Scottish Poppy Appeal and Poppyscotland's year-round fundraising enables them to deliver support to members of the Armed Forces community in Scotland by providing tailored funding and assistance. The charity also funds services in advice, employment, housing, mental health, mobility and respite. Please note that we are known as "Poppyscotland", and not "PoppyScotland" or "Poppy Scotland". For more information, please visit us at: www.poppyscotland.org.uk.
For more information on The Scottish Military Vehicle Group, please contact Publicity Officer Al Smith on 07704 187 739, or at publicityofficer@scottishmvg.org. The Group's website can be found at: www.scottishmvg.org.