Today we welcomed Sir Nicholas Pope, Executive Chair of Cobseo (The Confederation of Service Charities) to Riverside House, where we were able to share with him news and updates on the support we are providing across England and Wales to homeless and vulnerable Armed Forces veterans.
During his visit, Nick was able to pop into Brew and Banter, run by Salisbury & Amesbury Armed Forces & Veterans Breakfast Club which is hosted in association with Alabaré's Boots on the Ground veterans wellbeing programme at Riverside House every Friday morning.
Together we celebrate partnership working to end veteran homelessness.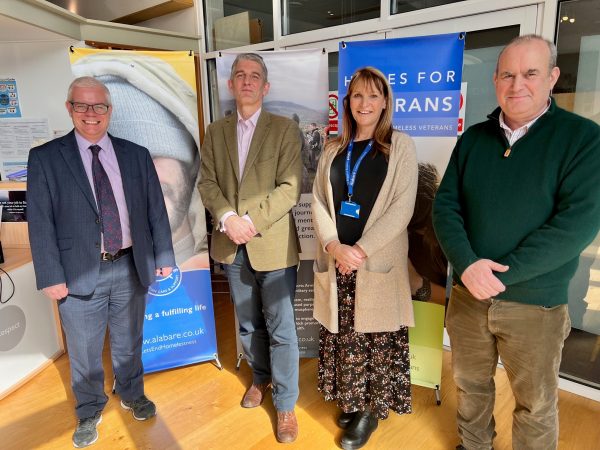 LtoR – Andrew Lord, Alabaré CEO, Lieutenant General Sir Nicholas Pope, Executive Chair of Cobseo, Karen Langley, Alabaré Boots on the Ground Manager, Andrew Heath, Salisbury & Amesbury AFVBC Branch Founder.