As the 75th anniversary of Victory over Japan Day – or VJ Day as it is better known – approaches, Legion Scotland is paying tribute to the contribution made by Scottish veterans with the presentation of a special Commemorative Coin.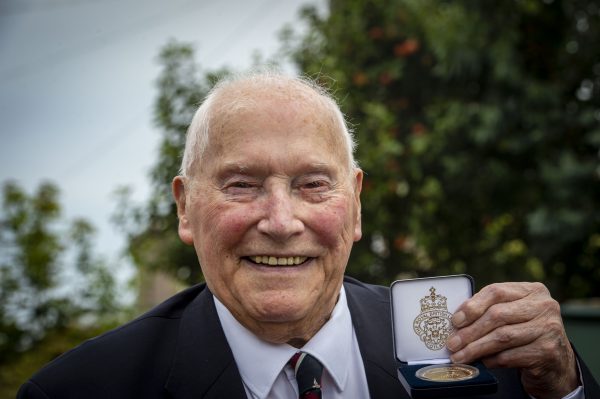 The coins are gold in colour and will be presented to any veteran that contributed to the Allied War effort in the Second World War during either VE Day or VJ Day. Two-hundred and fifty have been produced with just over half of that number to be handed out. The inscription on the Coin reads: "In Commemoration of the 75th Anniversary of Victory by the Allies in World War II – 1945-2020."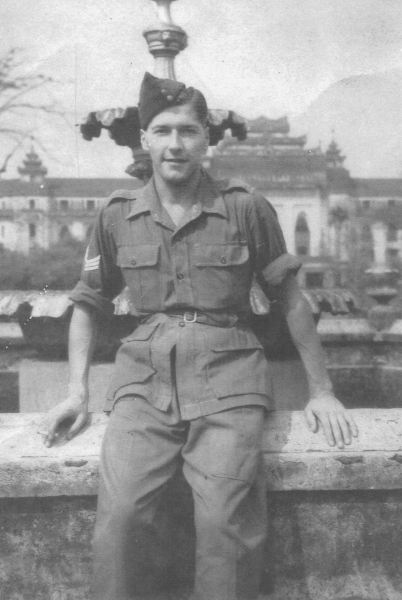 One veteran to have received the coin is 96-year-old Whitson Johnson, from Portobello, near Edinburgh. Mr Johnson joined the RAF in November 1942 and served until March 1947. "I wanted to fly," says Mr Johnson, but, after undertaking and completing all of the training, he was given the bad news that the flying programme had been terminated, and he would be given a new assignment.
Mr Johnson takes the story on:
"After being told that I would not be flying, we were put on leave and told to report to London thereafter. Eventually, after sitting some tests, I was offered another job. That job was learning about top-secret codes and ciphers for the RAF. I had to sign the Official Secrets Act."
It was at this point when Mr Johnson found out that he would be deployed to the Far East. "You just did what you were told," he adds. Mr Johnson's unit worked in support of the Fourteenth Army and went were they went. He spent time in Bombay, Calcutta, Chittagong, Hmawbi and Burma.
Mr Johnson has vivid memories of VJ Day:
"As far as I was concerned, 15th of August was when the War ended. That was a great day. I will never forget it. By dropping those bombs, so many lost their lives, but so many others would have died had that not happened, as Japan would have fought to the last man. A lot of lives were saved on both sides because the bombs were dropped.

"War is a terrible thing. I learned that lesson and I realise there is no point in war. I am glad that the War finished when it did, and the Allies were victorious. I can hardly believe that it has been 75 years since that day. I have had a great life and a wonderful family, with grandchildren and great-grandchildren. I have been very lucky."
Mr Johnson was presented with his Commemorative Coin – from a safe distance – by Martyn Hawthorn, who is the National Chairman of Legion Scotland. Mr Hawthorn said:
"It is vital that as we approach the 75th anniversary of VJ Day that the bravery and sacrifice of the men who fought in the Far east campaign is forgotten no more. The Commemorative Coin is our way of providing a symbol of their immense efforts during what was an arduous campaign. We would like to pay tribute to Whitson Johnson and the scores of others receiving this special coin for all that they did in service of our country."
The forthcoming VJ Day commemorations will be marked by a series of "virtual" events organised by Armed Forces charities Legion Scotland and Poppyscotland, in partnership with the Scottish Government.
A series of programmes will be broadcast live via the charities' social media channels to mark the milestone anniversary. A virtual Service of Remembrance will be shown from 10:35am on Saturday 15 August, and will be followed at midday by a virtual concert. On Monday 17 August, which will mark the first full week of the new school term, a live lesson will help to ensure that younger generations have an opportunity to learn more about the significance of VJ Day.
The Far East campaign began on 7 December 1941 when Japan attacked the American naval base at Pearl Harbour. The British colony of Hong Kong was attacked the following day and, over the subsequent weeks, the British retreated to Singapore, where they were forced to surrender with more than 9,000 men killed or wounded. A further 130,000 were captured and became POWs, facing years of appalling conditions.
The Allied fightback began in 1944 and was led by the British Fourteenth Army, stated to be the largest all-volunteer army in history with 2,500,000 men and comprised mainly of units from India and East and West Africa, as well as Britain. The campaign to recapture Burma was one of the longest fought by the British during the War, but they finally entered the capital, Rangoon, on 2 May 1945. Just as they prepared to progress onwards to Malaya and Singapore, the Atom Bombs fell on Hiroshima and Nagasaki leading to the Japanese surrender on the 15 August 1945, officially marking the end of the Second World War.