Since 1991, more than 235,000 service men and women have been sent to fight on our behalf – with as many as 1 in 11 needing our help on their return.
Many suffer from physical or mental health issues and are medically discharged from the Armed Forces, and life can be tough for these veterans as they attempt to navigate the jobs market. At any one time in the UK, it is estimated that 17,000 wounded or sick veterans will be looking for employment.
To help combat this, Turn to Starboard use sail training to support Armed Forces personnel affected by military operations to start new careers in the marine industry. Launched in 2014, the Falmouth-based charity has provided more than 1,900 sailing opportunities to injured veterans and their families with many going on to gain valuable sailing qualifications.
https://www.youtube.com/watch?v=R1Ma2qHervk
The charity is now inviting the public to give a helping hand to ex-servicemen and women to start a new life by sponsoring an individual through their Zero to Hero Yachtmaster Development programme. The flexible, personalised course offers expert tuition and mentor support and open to veterans with any level of sailing experience.
At the end of the programme participants are awarded the coveted Royal Yachting Association (RYA) Yachtmaster Offshore qualification – regarded as the gold standard by many in yachting. The award stands out as a badge of quality throughout the world and recognised by most national authorities and commercial operators.
Turn to Starboard CEO and founder, Shaun Pascoe, says veterans are highly skilled, yet need to re-adapt after working in some of the most dangerous places in the world.
"Our troops are professionally trained and resilient, yet often work in extreme conditions which can take its toll with thousands of individuals returning home with physical or mental health injuries. Many become isolated and disconnected to society while desperately missing the sense of connection and closeness they felt with their comrades, which can make it difficult for them to recover from the traumas of war.
"At Turn to Starboard we help individuals get perspective on past events and start a new life on their transition from the service. Beneficiaries gain tangible experiences, expert training and career-building opportunities on their journey of readjustment, all in a highly unique and supportive environment. 
"To help achieve this, we invite you to throw your support behind our Zero to Hero campaign and help those who have served for their country. And, contrary to what some may believe, sponsorship is not restricted to large companies. Support from organisations of all sizes is welcomed for the programme, which offers a powerful opportunity for a brand to connect with the broader community. Social responsibility for the greater good can boost employee morale and create a sense of pride while attracting positive publicity and improving customer relationships. Making a positive change to people's lives is at the heart of many businesses goals, so we welcome partners looking to support these values and encourage them to get in touch."
Sponsorship of an individual on the programme is £7,000 and includes personalised training for veterans by the charity's professional RYA instructors. The fee helps to cover all aspects of training and running costs of the boat, along with exam fees, on-board accommodation and safety kit.
If you would like to sponsor a veteran for your business or organisation, or as an individual, please contact Helen Jane on 01326 314262 or email helen@turntostarboard.co.uk.
Case study
Johnny Slater's legs caught the brunt of the blast caused by a Taliban improvised explosion device (IED) in Helmand Province in 2012.
The former soldier suffered multiple fractures in both legs, which in turn affected his mental health – a hidden wound impacting his recovery process and the lives of his wife and three children. After regular visits to a rehabilitation centre, Johnny, 47, was medically discharged from the Army in 2016.
"I was in a wheelchair for first eight months of my treatment and had numerous operations on both legs," he said. "Going through each process was a major set-back each time as I had to re-learn to walk and use crutches again. I was in constant pain and sometimes I couldn't get out of bed because of it, the pain affected my quality of life and is still there every day."
It was at the rehabilitation centre that Johnny was introduced to Turn to Starboard and he decided to book a 3-day sailing break for his family in Cornwall.
"When we first climbed aboard my wife felt out of her comfort zone but the skipper immediately put her at ease and she soon began to enjoy herself. It was also a good feeling to put my injury to one side and think about what I could do rather than what I couldn't for a change."
A few weeks later Johnny returned to the charity from his home town of Cottingham in Yorkshire on his own for a week-long sailing trip. "Although with my restricted mobility it was a bit challenging, yet I was still able to find my way around the yacht. Sailing made me feel that I was still useful and didn't have to resign myself to the scrapheap."
After developing his skills, Johnny's next big adventure came along when he was invited to take part in one of Australia's most popular summer sporting events – T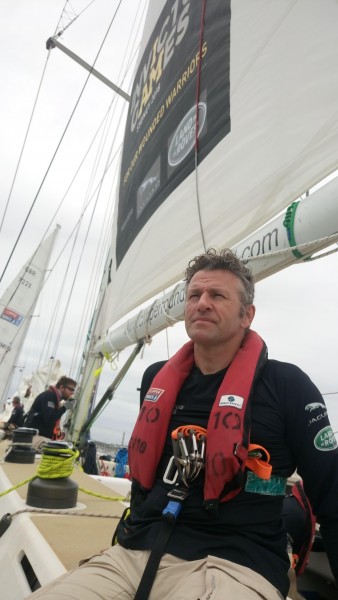 he Rolex Sydney Hobart Yacht Race. Johnny was part of a Help for Heroes-backed UK team on the 628-nautical mile race between Sydney and Hobart in Tasmania. He and his crew mates – six of whom were wounded, injured or sick veterans – left Sydney on Boxing Day in 2017, on board their yacht named Invictus Games Sydney 2018 GAME ON. More than 100 other sailing vessels also took part.
As well as aiming to finish as fast as possible, they were equally keen to beat the Australian-crewed Invictus Games Sydney 2018 DOWN UNDER in what was billed the 'Ashes on the Water'. The UK crew crossed the finish line almost 11 hours ahead of their friendly rivals and finished in 49th place overall. Sir Robin Know-Johnston, the first man to sail solo, non-stop around the world in 1969, joined the UK crew as their on-board navigator.
"As we crossed the finish line, the turnout of the crowd was unbelievable," exclaimed Johnny. "There was thousands of people waiting for us all cheering and waving. Although it was extremely hard work, we had accomplished what we set out to do and that was to beat our Aussie friends on the other Invictus Yacht."
After returning to his sailing studies, Johnny became a skipper in his own right earlier this year after gaining his coveted RYA Yachtmaster qualification.
"Sailing has opened up a whole new perspective on life and helped me focus on what I can achieve rather than on what I can't. learning to sail at Turn to Starboard has made me realise that you don't necessarily have to be in 9 to 5 job and there are career options like being a skipper of a chartered yacht, boat delivery work or sailing instruction abroad. Sailing has had a massive positive impact on my recovery and has giving me something new to focus on – and I'm grateful for that."
Johnny joined the Royal Signals in 1989 after leaving Cottingham High School. He served with them for more than six years before joining the reserve unit that is now 299 Parachute Squadron Royal Engineers, based in Hull.
Image caption:
Johnny Slater: Life at sea: Former soldier Johnny Slater on board the Invictus Games Sydney 2018 GAME ON yacht
Editors note:
Figures quoted by Help for Heroes and Kings College, London
Turn to Starboard Office: 01326 314262
Email us at: info@turntostarboard.co.uk
Website: turntostarboard.co.uk.
Follow Turn to Starboard on Twitter: com/turntostarboard
Find Turn to Starboard on Facebook: com/turntostarboard
Or write to us at: Turn to Starboard, Falmouth Marina, North Parade, Falmouth, Cornwall, TR11 2TD
Notes to Editors
Turn to Starboard is a Cobseo registered charity using RYA sailing courses to support Armed Forces personnel who have been affected by military operations. We support those who are Serving or Retired and their families.
We help those retired from the forces and those still serving to get perspective on past events and focus on a successful future.
Beneficiaries gain tangible experiences, expert training and career-building opportunities including the chance to gain internationally recognised marine qualifications.
Registered Charity number 1148549
For further media information, please contact: Mark Hardaker by calling 01326 314262 or emailing mark@turntostarboard.co.uk.