Whether you've already started working on your business idea or are just beginning to consider self-employment, our Naval Community: Self-Employment Discovery Workshop is for you!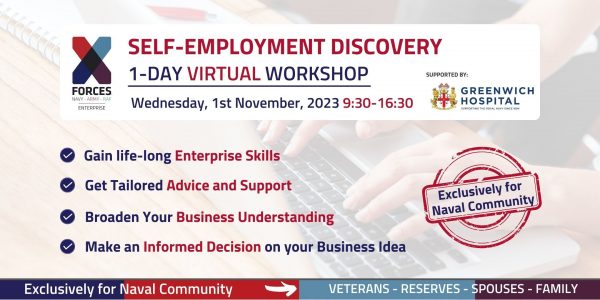 You'll meet other people with similar backgrounds to your own, learn about the small business landscape, and offered personal support. By the end of the workshop, you will be able make an informed decision as to whether self-employment is the right choice for you.
This free, 1-day workshop on 1 November is designed exclusively for the Naval Community – that means serving personnel, veterans, spouses and first-degree family members. It's supported by Greenwich Hospital, which means there is no cost to you, and is delivered via Zoom to make it accessible to all.
This workshop covers:
• The pros and cons of self-employment
• Understanding what starting a business means for you, your family and your finances
• Attributes of a successful entrepreneur
• Discover what support is available, and how to access it
• Peer-to-peer support & networking opportunities
By the end of this 1-day workshop you will have a better idea of what starting a business entails, and the support that's on offer, so you can plan your next steps. If you're curious about self-employment, don't let this opportunity pass you by.