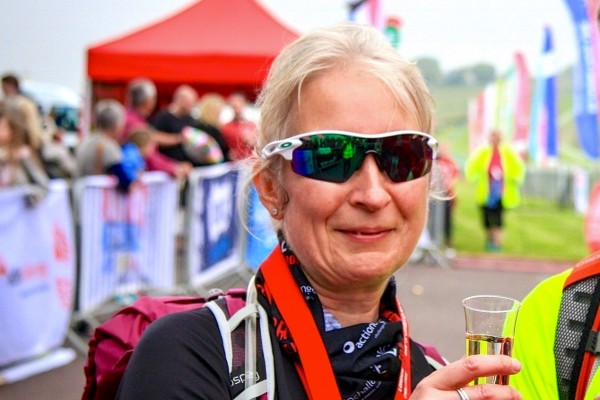 A woman from Horsham is preparing to compete in an incredible three marathons in three consecutive days, with half the money raised going to Blind Veterans UK, the national charity for vision-impaired ex-Service men and women.
Sarah McCarthy, 50 and originally from East Grinstead, will be competing in the Jurassic Coast Challenge, a three day challenge beginning on March 24. The picturesque coastal route will see participants begin in Charmouth, before heading through to Weymouth, Portland and Lulworth Cove, ultimately finishing in Shell Bay. On the eye-watering prospect of covering 78 miles in just three days, Sarah says: "I've completed a few 100k walking challenges, but this year I wanted to try something different, to prove to myself that I could do it. After a quick internet search I came across this event and I was just blown away by the countryside, it looks absolutely stunning!"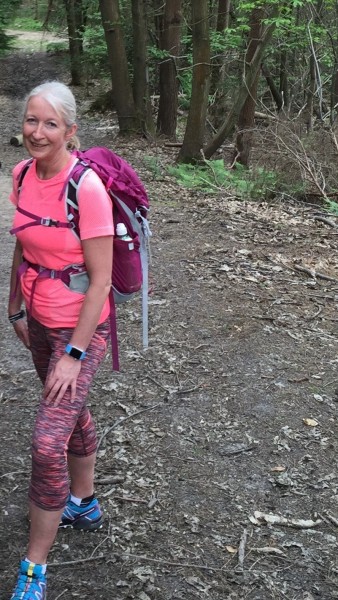 Sarah, who'll also be raising money for Combat Stress, has been donating money to Blind Veterans UK now for several years. She says: "Not only are they local to me, but my great uncle, himself a veteran, suffered from sight loss and it really struck me what a difficult thing it is for someone to go through, particularly when that person has also served their country."
Thanks to her fundraising endeavours, Sarah was invited to visit the charity's Brighton Centre in 2015, where she gained a first-hand insight into the services provided by the organisation. She says "My friends and I decided to do our first 100k about three years ago and I ended up donating all my fundraising to Blind Veterans UK. I was then invited to the centre in Brighton and the whole experience was incredibly humbling. It's a huge building but the sense of community and familiarity there is brilliant, it's clear they're making a massive difference to people's lives and helping them regain independence after sight loss. I'm happy to help out in any way I can."
Sarah, who works as a Contractor in Project Administration and Project Management, is understandably nervous as she begins to face the grim reality of three days of rolling terrain. She says: "There are times when I'm scared absolutely witless and wondering how on earth I'm going to get up those hills! But the more I keep training the more confident I feel, especially as I've been lucky enough to train with Outdoor Military Fitness – they've been incredibly supportive and have made a massive, massive difference!"
She continues: "It's going to be the challenge of a life-time and it's definitely going to hurt – a lot – but hopefully the stunning scenery will more than make up for it! If it's anything like my previous challenges, I know that the sense of camaraderie with your fellow challengers will help keep my morale high too."
Despite Sarah's enthusiasm and admirable gusto, she's aware that for many people, such physical challenges can appear daunting and, ultimately, off-putting. Having been there and done it before, however, Sarah is keen to encourage people to take the plunge. She says: "Trust me, if you think you can't do it, you absolutely can. Two and a half years ago, I couldn't even run 100 metres, and now look at what I'm doing! If you put your mind to it, you can achieve anything. It's an incredible cause and you'll be making a massive difference to the charity, and a huge difference to the veterans it supports."
To support Sarah as he takes on the Jurassic Coast Challenge, please visit http://uk.virginmoneygiving.com/fundraiser-web/fundraiser/showFundraiserPage.action?userUrl=SarahMcCarthy10&faId=789959&isTeam=false.
Blind Veterans UK was founded in 1915 and the charity's initial purpose was to help and support soldiers blinded in the First World War. But the organisation has gone on to support more than 35,000 blind veterans and their families, spanning WWII to recent conflicts including Iraq and Afghanistan.
For more than a century, the charity has been providing vital free training, rehabilitation, equipment and emotional support to blind and vision-impaired veterans no matter when they served or how they lost their sight.
For all media enquiries please contact: Felix Arbenz-Caines, PR Assistant, Blind Veterans UK, 12 – 14 Harcourt Street, London, W1H 4HD, E: Felix.Arbenz-Caines@blindveterans.org.uk, T: 020 7616 7941
Notes to Editor
Blind Veterans UK
Blind Veterans UK is a national charity that believes that no-one who has served our country should have to battle blindness alone. Founded in 1915, the charity provides blind and vision impaired ex-Service men and women with lifelong support including welfare support, rehabilitation, training, residential and respite care.
Find out more at: blindveterans.org.uk, follow us on Facebook at: facebook.com/blindveteransuk and on Twitter at: twitter.com/blindveterans.