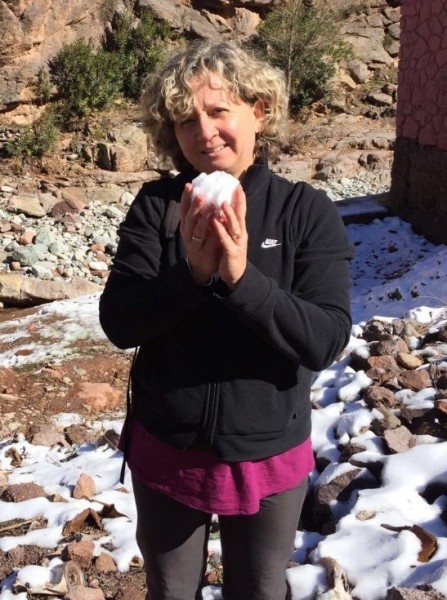 A health care worker from Cornwall is training to complete a 100 kilometre walk in Yorkshire for Blind Veterans UK, the national charity for vision-impaired ex-Service men and women that supports her father.
Sue Edwards, 49 and from Hayle, explains that the care the organisation has provided her father with fed her decision to fundraise on its behalf. She explains: "He became a beneficiary about 18 months and absolutely loves it. My mum too. They've been down to the charity's Brighton centre three times already and always have a fantastic time!
"For my dad, it's been great as they've provided him with IT training, which has really made a difference. He's also had a lot of other, hugely useful pieces of equipment delivered directly to his house. For my mum, too, it gives her some time off from caring and allows her to fully unwind and relax."
After coming across the event on the Blind Veterans UK Facebook page, Sue recognised the challenge, which takes place in June, as an ideal opportunity to give something back and help the charity raise its profile. She explains: "I've actually done a 100km challenge before, so I know it's possible. I've reconnected with some old school friends who I haven't seen in years and we'll all be doing it together. I'm also on the eve of my 50th birthday, so this'll double up as a celebration. Really, it's all just come together quite nicely – no excuses now then!"
Sue's father, Brian, served in the Royal Air Force from 1951 to 1953 as part of his National Service while her husband, Adrian, served in the Royal Navy for 16 years in the Fleet Air Sue, therefore, is more than aware of the sacrifices made by the men and women of the armed forces.
Having already completed one 100km challenge, Sue gladly admits she's feeling more excited than nervous this time around. She says: "It's very different terrain to my previous one so I know it's going to be different, but I'm more excited than anything. Last time I completed it in 33 hours, so ideally I'd like to beat that. Finishing, as ever, will be my main concern though!"
While Sue admits that, for her, training in earnest will begin after Christmas, she's keen to encourage as many others as possible to take the leap and get themselves signed up. She says: "I think it's a fantastic personal challenge, because it really is a challenge! A lot of people don't realise you do it all in one go, no sleeping whatsoever.
"It's such a fantastic charity. I'd never heard of them before but having seen what it's provided my father with, I now know how important their support is."
The 100k Yorkshire will take place from 23 – 24 June 2018. It will see participants start and finish at Darley Memorial Hall in Nidderdale, with a circular route which passes through Brimham Rocks, Ripley Castle and an abundance of stunning fields.
Registration is now open with a fee of £40 for individual and team entrants, and £90 for relay teams. There is a minimum sponsorship pledge of £300 for individuals, £1,250 for teams and £500 for relay teams. The all-inclusive entrance fee includes lunch, dinner and breakfast at numerous rest stops, snacks and refreshments along the route and a free event t-shirt.
To support Sue as he takes on the 100k for Blind Veterans UK, please visit: justgiving.com/SueEdwards50.
To sign up for the Blind Veterans UK 100k, please visit blindveterans.org.uk/100k.
Image available on request.
For all media enquiries please contact: Felix Arbenz-Caines, PR Assistant, Blind Veterans UK, 12 – 14 Harcourt Street, London W1H 4HD, E: Felix.Arbenz-Caines@blindveterans.org.uk, T: 020 7616 7941
Notes to Editor
Blind Veterans UK
Blind Veterans UK is a national charity that believes that no-one who has served our country should have to battle blindness alone. Founded in 1915, the charity provides blind and vision impaired ex-Service men and women with lifelong support including welfare support, rehabilitation, training, residential and respite care.
Find out more at: blindveterans.org.uk, follow us on Facebook at: facebook.com/blindveteransuk and on Twitter at: twitter.com/blindveterans.