In these extraordinary times we've been heartened by the responses from the projects that we work with and we'd like to let you know that we'll do all we can to help the project we've funded keep supporting the people who benefit from the grant that we have awarded; and we'll be launching more programmes to help.
At the Trust, we are responding to the pandemic by ;
Providing support to all of our grantholders to help them continue their work
Delivering emergency funding quickly to support veterans who are particularly vulnerable
Launching a package of programmes to support the Armed Forces Community with  funding from the Covenant Fund and from HM Treasury ; with special attention on those who have faced hardships as a result of the pandemic; on projects to help isolated people reconnect with wider communities; projects that support improved mental health and encouraging stronger links between Armed Forces Charities.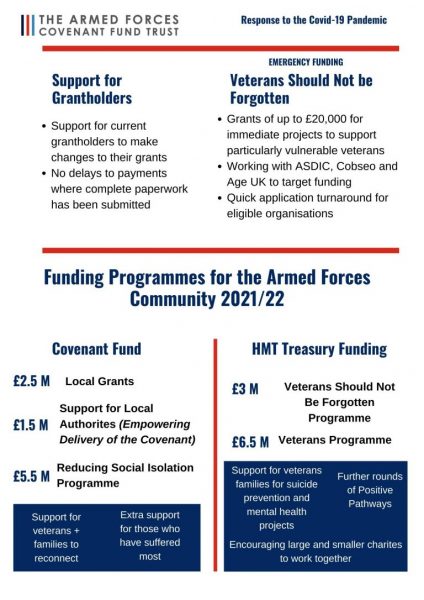 Support to current grantholders
The Trust stayed open; and our small staff team are ready to grant holders in delivering their grants.  We'll make sure that any payments you are due continue to reach you in good time.
We know that the organisations we've funded are working hard during this time; and we are ready to support our grantholders by making helping them make the changes to their grants that they might need; either through extending the time to complete their projects, or making changes to their activities. We will write to all of our grantholders to give them information on how they can request changes to their projects easily.
Some of our grantholders have already worked with us to make changes to their grants; enabling the excellent support that they give to veterans to be delivered in a different way.
Emergency funding to support highly vulnerable veterans
The Trust is delighted to announce that we will be launching an emergency programme in April 2020; funded by HM Treasury from the new £10M Veterans Fund announced in the  March Budget working with ASDIC;  the Association of Veterans' Drop in Centres, Cobseo, the Confederation of Service Charities  and Age UK to support veterans who are vulnerable. By working in this way; we will be able to make grants more quickly, and get funding swiftly to communities where it can provide assistance.
Through the Veterans Should Not Be Forgotten Programme we will to enable local drop in centres and breakfast clubs within the ASDIC network; local Age UK branches that already work with veterans and small charities within the Cobseo membership that were providing direct support to veterans in their communities to receive grants of up to £20,000 for projects focused on supporting veterans who are isolated and unable to access services or have limited social contact during the period of self isolation and restrictions relating to the pandemic.
New programmes
Targeting social isolation and supporting veterans and Armed Forces Families to reconnect with their communities
Over the next few months; we will be launching a range of programmes with a focus on reducing social isolation within the Armed Forces Community; and helping veterans and Armed Forces Families to reconnect with their communities.
This package of support includes:
From the Covenant Fund
£2.5M for local community projects through our Local Grants Programme
£5.5M through the Reducing Isolation programme with a particular focus on enhancing the support available to those who may have suffered the most as a result of the pandemic; and supporting the wide reconnection needs where this would help Armed Forces Communities. We are keen to support a range of larger and smaller Armed Forces Charities through this programme; and encourage organisations to work together
£1.5M to support Local Authorities and Local Covenant Partnerships to strengthen future delivery of the Armed Forces Covenant locally, so that veterans, families and the wider Armed Forces community don't get overlooked
From funding allocated by HM Treasury in the March 2020 Budget
The balance of the £10M announced by HM Treasury for projects supporting veterans and their families to have better mental health. We'll share more information about this programme in May 2020.
If you would like to receive updates on these programmes, including when they will be open for application please subscribe to our newsletter