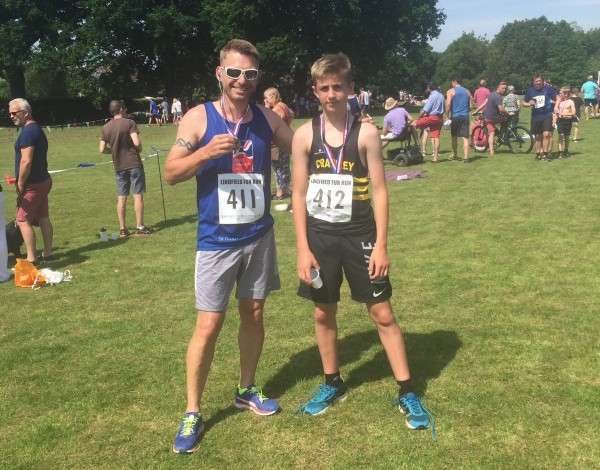 A blind veteran from Crawley is currently training to take part in a 22-mile walk along on the Normandy coastline to commemorate the anniversary of D-Day.
Lloyd Hanslow, 41 and from Tilgate, will take part in the event alongside five other blind veterans supported by Blind Veterans UK, the national charity for vision-impaired ex-Service men and women. The challenge will take place this Wednesday, the anniversary of the 1944 Allied invasion of occupied France.
Lloyd says: "I'm always up for a challenge and I find being fit and active incredibly important for my wellbeing. That's why when I heard Blind Veterans UK was organising a new event I jumped at the chance."
Lloyd joined the Army just after he left school in 1992 and served in the Royal Engineers. Initially he worked as a welder, but later became an outdoor activities instructor, teaching kayaking, canoeing, skiing and snowboarding.
He added: "I worked with other soldiers in the gym, taking them for runs and organising other outdoor activities. There's honestly nothing like the camaraderie that comes from being in the Forces, and in many ways it was a dream job."
Lloyd was eventually discharged from the Army after 12 years when he was diagnosed with Type 1 Diabetes. It was years later, in 2016, that Lloyd lost his sight suddenly due to a severe optic neuritis, an inflammation of the optic nerve. He now has just 15 per cent vision remaining.
Lloyd says: "Sometimes with this kind of eye disease your vision can improve gradually, but that wasn't the case for me. When I went to the hospital and the doctors told me there was nothing they could do I felt a complete sense of disbelief. I didn't want to accept it."
Lloyd started receiving support from Blind Veterans UK in 2017 and has since been given equipment and IT training to help him maintain his independence.
Lloyd says: "Just being with other vision-impaired veterans has done so much for my confidence. It brings back the camaraderie of my time in the Army. I've also been involved in lots of the sports activities Blind Veterans UK organises, like the annual ski trip, which has been a lot of fun."
Lloyd, who current works as a data researcher, says his packed schedule of kayaking, runs and gym sessions has helped with his training for the event.
Lloyd says: "I'm not too nervous because I'll be taking it on as part of a big team, and there will be an amazing atmosphere. Taking part on the anniversary of D-Day makes it even more special and I just hope that others are inspired by my example. Sight loss definitely shouldn't stop you taking on a challenge."
In 2009 Lt Col. Mike McErlain, with his wife Jo, set up the D-Day 44 Challenge, which involves a 44-mile run or 22-mile walk through fields, villages and beaches along the Normandy coastline. Sadly, Mike died while doing the run on 6 June 2013, but with the blessing of Mike's widow, Jo, the event returns in 2018 to raise money for Blind Veterans UK, Combat Stress and BLESMA.
To support Lloyd as he takes part in the D-Day 44 Challenge, head to justgiving.com/campaigns/charity/blindveterans/d-day
For all media enquiries please contact: Ruth Moore, PR and Communications Executive, Blind Veterans UK, 12 – 14 Harcourt Street, London W1H 4HD, E: ruth.moore@blindveterans.org.uk, T: 020 7616 7955
Notes to Editor
Blind Veterans UK
Blind Veterans UK is a national charity that believes that no-one who has served our country should have to battle blindness alone. Founded in 1915, the charity provides blind and vision impaired ex-Service men and women with lifelong support including welfare support, rehabilitation, training, residential and respite care.
Find out more at: blindveterans.org.uk, follow us on Facebook at: facebook.com/blindveteransuk and on Twitter at: twitter.com/blindveterans.