The Chelsea Pensioners have their scarlet coats – now veterans living at Broughton House, the Salford home for ex-servicemen and women, have their own unique regalia.
Designers at Manchester-based N Brown Group have produced 200 blazers, along with trousers, shirts and ties, for the veterans to wear when they are on parade or attending events.
The initiative is part of the company's Make a Difference charity drive to support good causes.
The blazers are made from a dark navy wool fabric in a classic design with a peak lapel style to give them a formal dress appearance. The brass buttons reflect the veterans' military background, and gold embroidery on the sleeve is inspired by the Broughton House crest.
He was joined by members of the N Brown team for a tour of the home, during which he chatted to several veterans, including George Simms.
George, 94, volunteered at the age of 18 to serve in the Royal Marines and was selected for service in the elite Royal Marine Commandos.
He saw some of the fiercest fighting of the Second World War during the Allied invasions of Sicily and Normandy. George was injured twice, in Sicily in 1943 and then on D-Day at Sword Beach during the Normandy Landings. He still has shrapnel lodged in his body.
In 2016, George was awarded the Legion D'Honneur by the French government.
Former Lancashire and England all-rounder Freddie said: "I felt really humbled to walk around Broughton House and meet the guys. It gave me great pleasure and pride to present the new blazers.
"I was fortunate to represent my country at cricket but these guys have represented the country at the highest level, putting themselves at risk for us, and have made a huge difference to all our lives.
"It's important to be part of something, to belong and have an identity. You have the Chelsea Pensioners and anywhere they go in their scarlet coats they are recognised.
"The blazers do the same for the Broughton House residents. Wherever they go people will know who they are and can say thank you to them."
Chris Lindsay, interim chief executive of Broughton House, said: "We're extremely grateful to N Brown Group for supporting us. Their support has been tremendous.
"A lot of work has gone into producing the blazers and we are delighted with them. They give us more of an identity and are fantastic.
"Everyone knows the Chelsea Pensioners in their scarlet coats, and our Broughton blazers put our unique home on the map."
Meanwhile, George Simms gave the thumbs-up to his new blazer. He said: "I'm very happy with it, it's very comfortable and will keep me warm in the winter. People will see where we are from which is nice."
N Brown Group's Jenni Bamford said: "As a Manchester-based clothing company, we are delighted to support Broughton House. It's an amazing charity sitting on our doorstep. It was a no-brainer for us to design and produce the 200 blazers for the veterans, to help distinguish them as residents of Broughton House.
"As ambassador for our menswear brand, Jacamo, it added an extra special element to the project to take Freddie along to present the blazers to the residents and spend time hearing their great stories."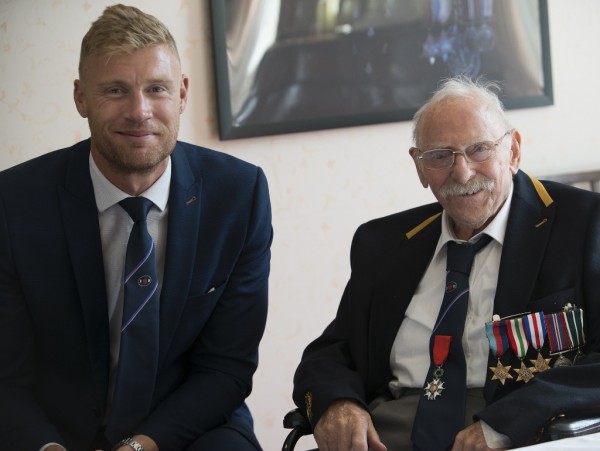 Notes to editors
For more information contact Kevin Feddy on 0161 300 8543 or 07770 543112 or via kevin@kevinfeddymedia.co.uk.
For more information on Broughton House, visit www.broughtonhouse.com.