A blind veteran from Cumbria has decided to complete a marathon in his garden on Sunday 26 April in order to support Blind Veterans UK, the national charity for vision-impaired ex-Service men and women.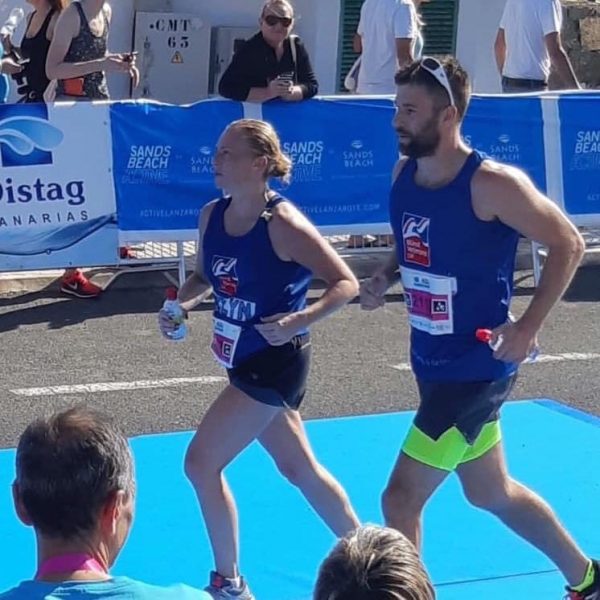 Darren Blanks, 33 and from Egremont in Cumbria, had originally signed up to run the London Marathon this weekend but due to the Covid-19 pandemic this has been postponed until October. Darren says:
"I decided to run the London Marathon for Blind Veterans UK as they have been supporting me for nearly nine years. I still wanted to do the challenge on Sunday because the charity need the support more than ever at the moment".
Darren joined the King's Royal Hussars and did two tours of Iraq in 2005 and 2007 before losing his sight suddenly due to Leber's Hereditary Optic Neuropathy (LHON). He says:
"It will be 10 years in June since I lost my sight and the charity have done a lot for me. Not only have they given me equipment to help me with day to day tasks but it's great to meet all the other members and hear their stories".
Since losing his sight, Darren has completed seven marathons and sixteen half marathons. In order to complete the marathon challenge, he will have to run a total of 436 laps around his garden. He says:
"I've never run a marathon in my garden before! I'm not expecting to beat my personal best but if I can do it in under four hours I'll be happy. I think I'm going to have to change direction every mile and a half though to change the route slightly!"
Darren is doing the marathon as part of the 2.6 Challenge which has been set up as many fundraising events have been cancelled or postponed due to the Covid-19 pandemic. The 2.6 Challenge encourages people to do fundraising challenges from home by incorporating 26 or 2.6 in their activity. They can do any kind of activity they chose no matter how large or small from juggling for 26 minutes to running 2.6 miles. The main aim of the challenge is to help charities continue to raise much needed funds.
To follow in Darren's footsteps and find out more about how to do a 2.6 challenge for Blind Veterans UK, please visit blindveterans.org.uk/fundraise-for-us/26-challenge/
To support Darren and help him raise money for Blind Veterans UK, please visit justgiving.com/fundraising/my-2-6-challenge
As a result of the Covid-19 pandemic Blind Veterans UK has adapted its service to support its 5,000 beneficiaries, 90% of whom are over 70 and thus being advised by the Government to self-isolate. The National Support Service will help blind veterans through this period of social isolation.
Nicky Shaw, Blind Veterans UK Director of Operations said:
"Having to self-isolate, blind veterans need our help right now with daily tasks, such as the shopping, and constant emotional support through this difficult time. So we are temporarily changing our service and mobilising our staff to provide practical, essential support to help the most vulnerable."
Nicky Shaw added:
"There is so much that we can and must do to support blind veterans to help them maintain physical and emotional wellbeing, and to feel safe, reassured and cared for during this crisis."
You can keep updated on Blind Veterans UK's response to Covid-19 at blindveterans.org.uk/coronavirus where you can also find out more about supporting the charity to make this new service possible.
Notes to Editor
Blind Veterans UK helps vision-impaired ex-Service men and women of every generation rebuild their lives after sight loss. Since 1915 we've provided rehabilitation, training, practical advice and emotional support to tens of thousands of blind veterans.
Find out more at: blindveterans.org.uk and follow us on Facebook at: facebook.com/blindveteransuk and on Twitter at: twitter.com/blindveterans.