A Cumbria man has completed a 100-mile bike ride in an impressive 6 hours 15 minutes for Blind Veterans UK, the national charity for vision-impaired ex-Service men and women.
Luke Gay, 22 and from Carlisle, took part in the Prudential RideLondon-Surrey 100, raising more than £300 for the charity. His route took him through the City of London and Canary Wharf, out to Box and Leith Hills in Surrey, and then back into London along the Mall.
Luke says: "It was much harder than previous years with all the wind and rain – I was completely soaked through from 30 miles so it was a very soggy ride!"
Luke, who serves in the Royal Military Police, chose to fundraise for Blind Veterans UK because of his connection with the military and the great work the charity does to help blind veterans: "When I learnt more about the charity and understood the life changing impact it has on blind veterans and their families, it was an easy choice for me to support Blind Veterans UK."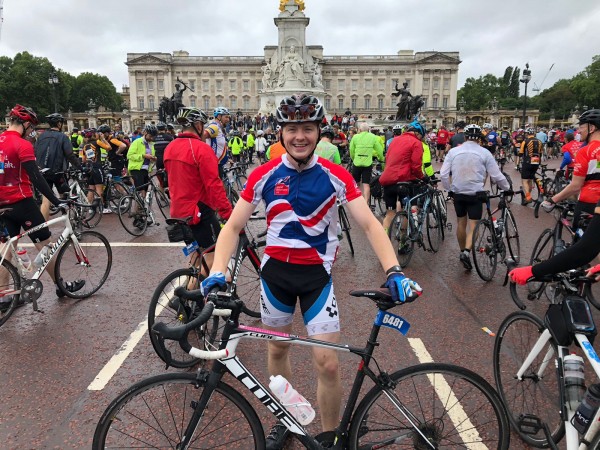 Luke continues: "I've been away a lot recently so I wasn't able to do so much training, just the odd 30 miles here and there. It was a big challenge but I felt great afterwards and being able to raise money for such a worthy cause made it all worthwhile."
Prudential RideLondon took place on 29 July 2018 with more than 25,000 riders travelling from the Queen Elizabeth Olympic Park to the Mall in central London, via Leith and Box Hills in Surrey.
For all media enquiries please contact:
William Witt
Marketing & Communications Executive
Blind Veterans UK
E: william.witt@blindveterans.org.uk
T: 07599 556664
Notes to Editor:
Blind Veterans UK is a national charity that believes that no-one who has served our country should have to battle blindness alone. Founded in 1915, the charity provides blind and vision impaired ex-Service men and women with lifelong support including welfare support, rehabilitation, training, residential and respite care.
The charity has a dedicated community team in Cumbria who provide support including training, equipment and social events for vision-impaired ex-Service men and women in the local area, no matter when they served or how they lost their sight.
Find out more at: blindveterans.org.uk, follow us on Facebook at: facebook.com/blindveteransuk and on Twitter at: twitter.com/blindveterans.