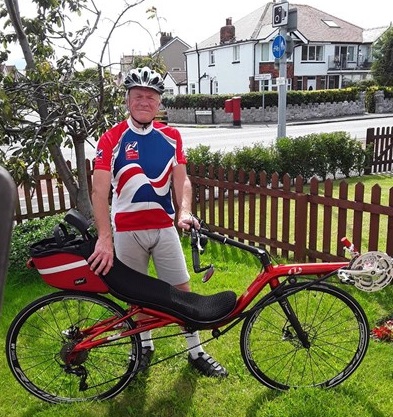 A cyclist from Conwy is preparing to cycle 325 miles for Blind Veterans UK, the national charity for blind and vision-impaired ex-Service men and women.
Goronwy 'Gron' Edwards, 67 and from Llandudno, will be cycling from the charity's training and rehabilitation centre in Brighton to its Llandudno counterpart. The ride, which will begin on 29 August, will take six days.
The ride will be done on a recumbent bike, something Gron admits may not be winning him any fashion points in the near future. That being said, he remains bullish about its functional properties, something he maintains will be key over the course of the five days.
He says: "In a world of lycra and high end mass-produced racing bikes, the lowly recumbent bike and trike do not tick the fashion box.  In fact, you could say that other riders look down on us – literally!  However if you have ridden a normal bike for any length of time, you soon become aware of its punishing and painful limitations.
"In fact, it has the aerodynamic properties of a Humvee when at a speed of around 20mph, with 80 per cent of your energy being used to combat air resistance.  Not the case with our laid back bikes!"
Gron will be joined by fellow roadie, Bob Birch and support driver, Barry.  The team's aim will be raising awareness of Blind Veterans UK by visiting a number of military bases along the journey. For Gron, the impact the charity is able to make on veterans suffering sight loss is something he's been able to witness first hand. He explains: "It's going to be a fantastic experience, but I'm also looking forward to raising vital funds for the charity. I have been a volunteer at their training and rehabilitation centre in Llandudno for 18 months now and am therefore well aware of the considerable difference the charity is able to make."
The charity, which provides free lifelong support to ex-Service men and women suffering sight loss, has recently launched a new strategy, through which it hopes to double the number of beneficiaries it supports by 2022. It is believed that there are up to 59,000 veterans who could be eligible for the charity's support, but currently remain unaware of its existence.
Through his own connections to the military, Gron is well aware of the work that needs to be done in increasing the charity's awareness. He explains: "My son is currently serving in the Army at RAF Brize Norton, and he's shocked at how few Service personnel there are who have heard of the charity."
As a result, Gron and Bob will be making a number of stops at military bases over the course of their journey, and are hoping to interact and engage with as many people as they can on the road too. He says: "We promise to slow down for any roadies we meet on the way! It'd be great to see as many people as we can on our journey."
To donate to Gron and Bob as they prepare for their epic challenge, please visit: www.justgiving.com/roadiesride.
Please find below a brief summary of Gron and Bob's start and finish points for each day:
Mon 28 Aug – arrive at Brighton centre
Tue 29 Aug – finish at Aldershot Military Barracks
Wed 30 Aug – finish at RAF Brize Norton
Thur 31 Aug – finish in Worcester
Fri 1 Aug  – finish in RAF Cosford
Sat 2 Aug – finish in Wrexham
Sun 3 Aug – arrive at Llandudno centre for a celebratory tea party
For all media enquiries please contact: Felix Arbenz-Caines, PR Assistant, Blind Veterans UK, 12 – 14 Harcourt Street, London, W1H 4HD, E: Felix.Arbenz-Caines@blindveterans.org.uk, T: 020 7616 7941
Notes to Editor
Blind Veterans UK
Blind Veterans UK is a national charity that believes that no-one who has served our country should have to battle blindness alone. Founded in 1915, the charity provides blind and vision impaired ex-Service men and women with lifelong support including welfare support, rehabilitation, training, residential and respite care.
Find out more at: blindveterans.org.uk, follow us on Facebook at: facebook.com/blindveteransuk and on Twitter at: twitter.com/blindveterans.