More than 750 cyclists in eleven countries took part in RAFA Rides 2022 on Friday and Saturday, together raising more than £90,000 for the Royal Air Forces Association's vital welfare work.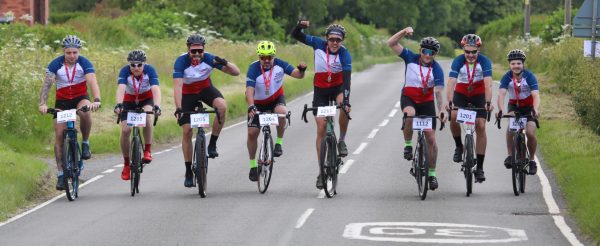 A record 352 riders completed routes through the Leicestershire and Rutland countryside, while more than 400 took part in their home areas, either on local roads or on stationary bikes. Many joined-in from their RAF station workplaces.
Overseas participants included riders in Norway, New Zealand, Saudi Arabia, Cyprus and the USA, who were able to tune in to live event broadcasts from Leicestershire, UK RAF stations and teams in other parts of the world.
Money raised by the annual cycling challenge, made possible due to generous support from defence company Lockheed Martin UK, will help the RAF Association in its ongoing work with RAF veterans, serving personnel and their families.
Air Vice-Marshal Gary Waterfall, RAF Association ambassador and RAFA Rides founder, said:
"I continue to be amazed at how this event is growing each year. The support our RAF community shows to those who need a little help is incredible! Once again, RAFA Rides can call itself a truly global event.

"I'd like to thank everyone involved, from the amazing riders and their families, and the volunteers who made the day the success it was, to everyone who sponsored riders. In these difficult economic times, it is moving to see people still donating money to a cause dear to them."
Amy Petterson, Head of Community Fundraising at the RAF Association, added:
"I'd like to echo Gary's thanks to everyone who made this year's RAFA Rides such a success. Next year's RAFA Rides promises to be even more exciting, so watch this space!"
The annual event is open to everyone, not just people with an RAF connection. Event and registration information for RAFA Rides 2023 is available at https://rafa.org.uk/events/rafa-rides/.
The 2022 global feed is available on the Association's YouTube channel www.youtube.com/user/RAFWingsAppeal.