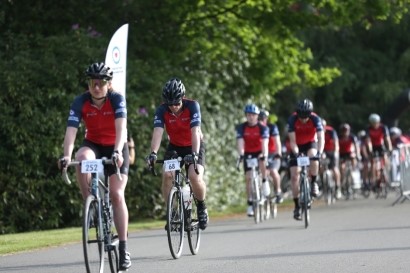 The Dambusters Ride, a cycle fundraiser organised by the RAF Benevolent Fund, the RAF's leading welfare charity, took place on 14 May, raising £80,000, with donations still coming in.
A national and, in a virtual sense, international event, the Dambusters Ride pays tribute to the Dambusters, members of the RAF's 617 Squadron who, led by Wing Commander Guy Gibson, were assembled to bomb three dams in Germany's Ruhr Valley on the night of 16-17 May 1943 – also known as Operation Chastise. It was a risky raid, dropping engineer Barnes Wallis' revolutionary bouncing bomb at low level, and the cost was high. Of 133 aircrew who left, 53 were killed and three became prisoners of war.
The Dambusters Ride consisted of two elements: a Virtual Ride which took place on 7-8 May and a Heritage Ride, which took place in Lincolnshire on Saturday 14 May.
Fundraiser Nigel Malkin, 51, said:
"I've always had a keen interest in history and signed up for the Dambusters Ride to pay tribute to everyone that serves in the RAF, both past and present. I enjoyed kick-starting my cycling and increasing my mileage while raising money for the Fund which does such important work supporting RAF personnel."Hundreds of fundraisers from all over the country took part in the event in Lincolnshire.
Lisa Hunt, regional fundraiser at the RAF Benevolent Fund, said:
"This year's Dambusters Ride was an enormous success with close to 300 riders taking part across the 60 and 100 mile routes, to raise money for the RAF Benevolent Fund. I'd like to say a huge thank you to all who took part. The money raised will help provide financial, emotional, and practical assistance to members of the RAF Family who require support."
The RAF Benevolent Fund provides financial, emotional, and practical assistance to serving and retired RAF personnel and their families. This includes grants to help with financial difficulty, free memberships for Headspace, Airplay youth clubs, and more.