It might still be a few months until Strictly Come Dancing returns to our screens – but fans can get their fix at a glittering live competition in Inverness next weekend (1 to 2 April). Come Dancing With Poppyscotland in association with Toe 2 Toe Dance will be waltzing back after a two-year hiatus.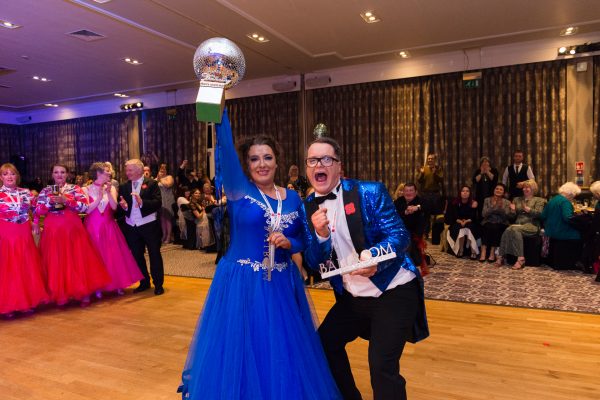 Dancers are putting the finishing touches on their quicksteps, jives and tangos in preparation for the finals at the Drumossie Hotel on Friday 1st and Saturday 2nd April, in aid of the Armed Forces charity.
Seven couples will be dancing it off in the hope of taking home the prestigious Glitterball Trophy, as well as beating 2020's total of £21,000 raised for Poppyscotland's welfare work.
Now returning for the fourth time, the charity competition matches novices with experienced dancers from local dance school Toe 2 Toe. It is the largest event of its type in the north of Scotland.
Although the dancers were forced to put their training on hold last year, this year's competition is set to be the biggest ever. It is now running over two nights in response to high demand, with a special event aimed at families on the Friday night.
As a former Sergeant in the Royal Highland Fusiliers, Sammy Torrance, 54, was more familiar with marching than the foxtrot or the cha-cha. But after Poppyscotland helped his family pull through during a crisis, he was determined to put on his dancing shoes and give something back.
Sammy, from Balloch, who now works as a lorry driver, said:
"When our house burned down while we were on holiday four years ago, we were totally devastated. We lost everything, including our dog, Whisky.

"I don't know what we would have done if it hadn't been for Poppyscotland helping us get back on our feet. The hardest part was asking for help in the first place, but they made us feel so welcome.

"Afterwards, I had a delayed reaction to the trauma, but Poppyscotland was there for me again. They arranged counselling and made sure I was a high priority.

"I had never danced before, but my wife persuaded me to give it a try for my 50th birthday. Now it's been a real lifeline and helps me stay positive.

"It's hard work preparing for the show – we've been practicing every weekend for the last six months. My partner has been amazing, and it's sure to be a fantastic night out."
Husband and wife team Tristian and Jennifer Hill, from Toe 2 Toe Dance, have been taking the couples through their paces.
Jennifer said:
"It's been a long journey to get here, but the dancers have all been fabulous. They've really managed to keep the momentum going, even when restrictions meant they couldn't dance with each other.

"It's becoming more real now we are doing the final costume fittings and rehearsals. They've all put 100 per cent into it and the Glitterball Trophy is up for the taking!"
Gordon Michie, Poppyscotland's Head of Fundraising, said:
"We're very excited that we can finally stage Come Dancing after a two-year enforced break. The dancers' commitment and enthusiasm has been inspiring, and we hope this year's event will be the biggest and best yet."Every penny raised will go to support our work providing life-changing services for the Armed Forces community in Scotland. This support is needed now more than ever, and we want to make sure we are always there when veterans such as Sammy, and their families, need us.

"We've seen incredible demand this year, but there's still time to buy your tickets for Friday night. So why not look out your glitter and glad rags, and come and dance the night away with us for a great cause?"
A limited number of tickets for Come Dancing With Poppyscotland are still available from www.poppyscotland.org.uk/come-dancing.