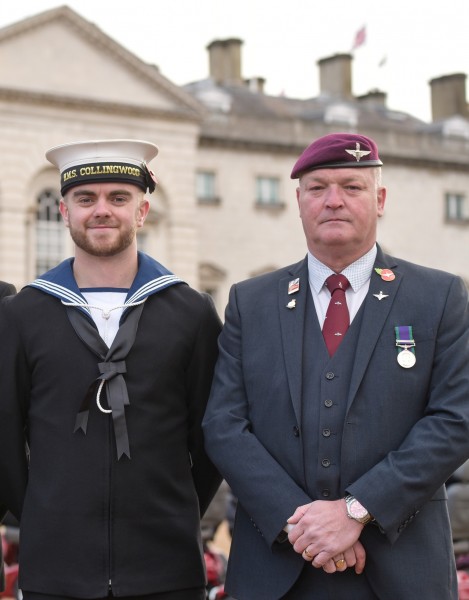 A blind veteran from Deeside has marched at the Cenotaph in London on Remembrance Sunday (12/11) with the charity Blind Veterans UK just two weeks after suffering a heart attack.
John Robinson, 51 and from Connah's Quay, marched with more than 100 other blind veterans supported by Blind Veterans UK, the national charity for vision-impaired ex-Service men and women. He marched only one week after being discharged from hospital.
John, who has suffered a heart attack before, began to feel unwell and felt chest pains on Sunday 29 October. He says: "It started to get really quite bad so an ambulance was called and took me to the Countess of Chester Hospital. It was there that they confirmed that I had had a heart attack."
John was transferred to the specialist Broadgreen Hospital in Liverpool to undergo tests and scans. He was fitted with a stent and discharged from hospital on Friday 3 November.
He says: "The doctor told me that I had to take it easy for the next few weeks and I immediately thought that I was due to be going down to London the following weekend to march with Blind Veterans UK on Remembrance Sunday.
"I told her this and she said that she watches the march on TV every year and that, as long as I didn't do too strenuous marching then it should be ok. I'm so glad because the experience was absolutely fantastic."
John, served in the Parachute Regiment for over ten years but, aged just 43, he lost most of his sight to the eye condition, macular degeneration. His first heart attack in 2008 led to his sight loss deteriorating more rapidly and it turned his life upside down.
John says: "My sight went from ok to gone within two days. It was a real shock. I now live with no sight in my left eye and only peripheral vision in my right eye."
The sudden loss of his sight made John depressed. He had to give up driving and much of what he had enjoyed before sight loss. Becoming unemployed due to his vision-impairment compounded his problems as financial hardship and other worries set in. John said: "I feared for my future. I was in a dark place when I lost my sight."
It was his introduction to Blind Veterans UK which set John on his way to accepting and adjusting to the challenges associated with his sight loss. Since starting to receive support from the charity in 2009, John has been given back his independence and confidence as the result of the charity's training and meeting other beneficiaries who are also veterans living with severe sight loss.
John says: "Blind Veterans UK has done so much for me. I can't praise them enough. Their support has helped with major things such as paying for the repair of the kitchen and bathroom in my home to more practical things like being able to use a computer and providing important equipment which helps every day."
John also now works for the charity working with new blind veterans that start receiving support.
He says: "I'm really enjoying the work I'm now doing for Blind Veterans UK. I get to speak to new beneficiaries and hear their amazing stories. I'm also able to signpost them to the specific support they need which is really satisfying.
"This is why I was so determined to march at the Cenotaph after the heart attack. It really means a lot to be there with fellow blind veterans.
"It was also fantastic that my wife Sylvia was able to come down to London to enjoy the weekend too. It's been a hard couple of weeks for her too so she really deserved it."
Blind Veterans UK is the national charity for blind and vision-impaired ex-Service men and women, providing vital practical and emotional support to help veterans discover life beyond sight loss. If you, or someone you know, served in the Armed Forces or did National Service and are now battling severe sight loss, find out how Blind Veterans UK could help by calling 0800 389 7979 or visiting blindveterans.org.uk.
For all media enquiries please contact: Mark Wheeler, PR Manager, Blind Veterans UK, 12 – 14 Harcourt Street, London W1H 4HD, E: mark.wheeler@blindveterans.org.uk, T: 020 7616 7980
Notes to Editor
Blind Veterans UK
Blind Veterans UK is a national charity that believes that no-one who has served our country should have to battle blindness alone. It provides blind and vision-impaired ex-Service men and women with lifelong support including welfare support, rehabilitation, training, residential and respite care.
Find out more at: www.blindveterans.org.uk, and follow us on Facebook at: facebook.com/blindveteransuk and on Twitter at: twitter.com/blindveterans.