Ongoing travel restrictions due to COVID-19 may have led to a temporary pause in Deptherapy's expeditions but divers from the rehabilitation charity are already engaged in home-based training in preparation for the recommencement of programmes in 2021.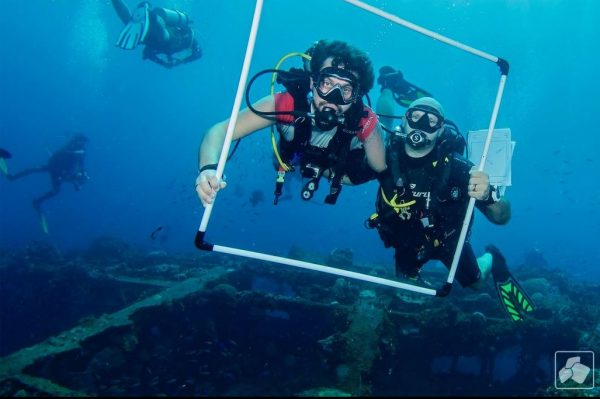 Last year, Deptherapy, supported by its strategic partner the Endeavour Fund, secured a grant from the Armed Forces Covenant Fund Trust (AFCFT) Positive Pathways programme.  The grant was to cover two Marine Ecology courses in 2020 that would look at coral cover and fish assemblages. Following in 2021, course students would join a 10-day liveaboard to the Red Sea where they would compare coral and aquatic life on two historical WWII wrecks. The courses and liveaboard have now been re-scheduled for 2021 and 2022.
The two Marine Ecology courses are being led by Dr Deborah McNeill and Guy Henderson of the Open Ocean Project, which operates the Open Ocean Science Centres in El Quseir and Dahab in Egypt. Programme Members for the first 2021 course have been issued with supporting materials and Deborah is setting work that will establish a secure base of knowledge prior to travel. The whole team is active on a private online group, where there has already been plenty of discussions about the course and Marine Science in general.
The two practical courses will run at Deptherapy's Egypt base Roots Red Sea and the 10-day liveaboard will be on Roots' brand new accessible liveaboard 'Big Blue'.
The 2022 liveaboard expedition will form a comparative study of the iconic and much dived SS Thistlegorm, alongside the rarely dived SS Turkia. The study of the two wrecks, which were both sunk in 1942, is an international first. The results will be shared with the Hurghada Environmental Protection & Conservation Association (HEPCA) and Egypt's Chamber of Diving and Watersports (CDWS). A formal presentation either to the Egyptian Embassy in London or at the British Embassy in Cairo is also planned.
The study reinforces Deptherapy's ecological work on the wreck of the Shinkoku Maru in Chuuk Lagoon in 2018 and is part of the charity's Protecting Our Oceans project.
Dr Deborah McNeill will be leading the project and it is hoped that Deptherapy's Vice-Chair, Explorer and TV Presenter Paul Rose, will be part of the expedition team.
Those selected for the 2022 liveaboard will need to have completed one of the two Marine Ecology Courses in 2021, be certified to at least RAID Advanced 35 standard, as well as having a minimum number of dives that will reflect the challenging nature of the expedition.
Deptherapy Programme Members who have progressed through the charity's training to Divemaster and Divemaster trainee standard will need to qualify as RAID Advanced Wreck Divers before the expedition, and it is expected that they will subsequently lead the dives.
Divemaster Trainee Tom Oates,  a Deptherapy Ambassador and Protecting Our Oceans' Champion said:
"I start my Marine Biology degree at a Hull University in September. The Marine Ecology courses that Deptherapy has introduced are really exciting.  My knowledge has increased massively since the courses were announced and being part of the expedition will be a once in a lifetime experience."
Divemaster Trainee Tom Swarbrick, a Deptherapy Ambassador and Protecting Our Oceans' Champion said:
"I missed out on the 2018 Chuuk Lagoon Expedition as I didn't have the level of experience required.  Being part of this new project is something very special. I am already working with the rest of the team on the first Marine Ecology course and the learning is hard but fun. Looking forward to a challenging Advanced Wreck course on the way!"
Dr Deborah McNeill, who is based at the University of Glasgow, said:
"I'm very excited about running these field courses for Deptherapy. The courses are designed to develop a specific set of scientific skills, but they also represent an excellent opportunity for team building. We've already made a promising start on the academics and it will be brilliant to see these skills put into practice in the amazing classroom that is the Red Sea."