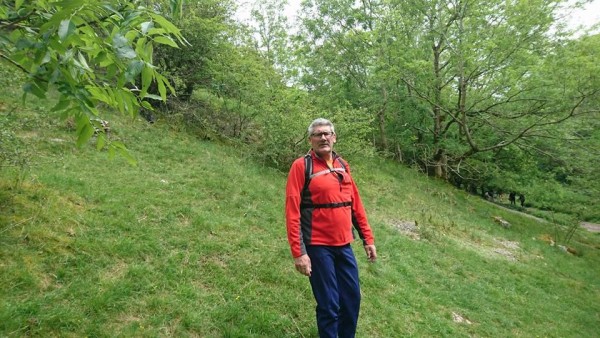 A man from Derbyshire is currently training to compete in a 100km walk in Yorkshire for Blind Veterans UK, the national charity for blind and vision-impaired ex-Service men and women.
Mark Henson, 57 and from Crich, will be taking part in the challenge with his walking group, the Sole Survivors. He says: "My friends Vanessa, Colin and Louise and I have been walking together for a number of years now and we're always on the lookout for new and exciting challenges."
"In the end, it was an easy decision. To be able to challenge ourselves physically, which we love to do, while at the same time support a charity like Blind Veterans UK, is a tremendous honour. We're hugely looking forward to it!"
Mark, who is aiming to finish the race in under 24 hours, has been aware of Blind Veterans UK, and the support the organisation provides veterans living with sight loss, for a number of years. This, in part, is due to the number of people close to him who have themselves served. He explains: "My father was a pilot in the Second World War, my uncle was a D-Day Dodger and my niece is in the Royal Air Force. Alongside that, I have many friends who have served in all branches of the Armed Forces. It's safe to say, therefore, that I have a tremendous amount of respect for the bravery displayed by our veterans, both past and present."
For now, Mark and the Sole Survivors are focusing their attention on training and fundraising. He continues: "So far, the fundraising is going fantastically well. We have a number of activities lined up to ensure we are, individually and collectively, able to raise as much money as possible.
"The training, similarly, is ongoing. Fortunately, living on the edge of the Peak District means I have access to some truly excellent training routes, so it's definitely no hardship and I'm certainly left with no excuses!"
With over six months to go, Mark is keen to encourage others to sign up and take part in what he insists will be the challenge of a lifetime. He says: "The challenge of walking this distance should not be underestimated, but neither should the profound sense of accomplishment you'll experience upon completion."
"I would therefore urge as many people as possible to get themselves signed up and demonstrate their pride for our Service men and women, whom I believe to be the finest in the world."
The 100k Yorkshire will take place from 23 – 24 June 2018. It will see participants start and finish at Darley Memorial Hall in Nidderdale, with a circular route which passes through Brimham Rocks, Ripley Castle and an abundance of stunning fields.
Registration is now open with a fee of £40 for individual and team entrants, and £90 for relay teams. There is a minimum sponsorship pledge of £300 for individuals, £1,250 for teams and £500 for relay teams. The all-inclusive entrance fee includes lunch, dinner and breakfast at numerous rest stops, snacks and refreshments along the route and a free event t-shirt.
To support Mark as he prepares to take on the 100k Yorkshire for Blind Veterans UK, please visit: justgiving.com/bvy100k-markhenson, while you can support the Sole Survivors by visiting: justgiving.com/louise-paterson8.
To sign up for the Blind Veterans UK 100k, please visit blindveterans.org.uk/100k.
For all media enquiries please contact: Felix Arbenz-Caines, PR Assistant, Blind Veterans UK, 12 – 14 Harcourt Street, London W1H 4HD, E: Felix.Arbenz-Caines@blindveterans.org.uk, T: 020 7616 7941
Notes to Editor
Blind Veterans UK
Blind Veterans UK is a national charity that believes that no-one who has served our country should have to battle blindness alone. Founded in 1915, the charity provides blind and vision impaired ex-Service men and women with lifelong support including welfare support, rehabilitation, training, residential and respite care.
Find out more at: blindveterans.org.uk, follow us on Facebook at: facebook.com/blindveteransuk and on Twitter at: twitter.com/blindveterans.