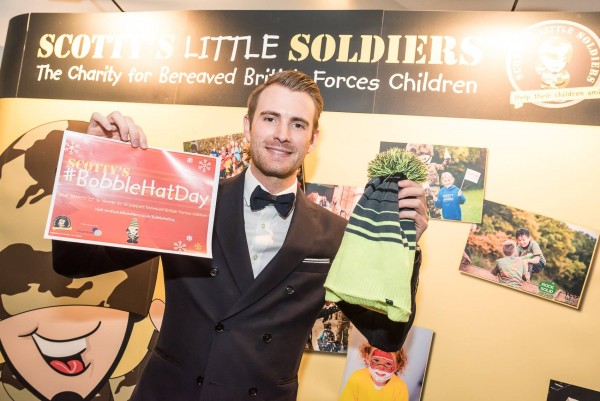 Armed Forces children's charity, Scotty's Little Soldiers, is calling on people across the UK to get their hats on for charity this Christmas and support the children our fallen heroes left behind.
Scotty's Bobble Hat Day will take place on Friday 8th December, and the charity is asking people of all ages to make a big difference to a bereaved child this Christmas, by making just a small donation.
Scotty's Little Soldiers was set up in 2010 by war widow Nikki Scott following the death of her husband and father to her two children, Corporal Lee Scott. The charity, which supports over 300 children across the UK, provides a vital support network to children and young adults who have lost a parent while serving in the British Armed Forces and reassures them that they are not alone.
Charity founder Nikki said: "Christmas is one of the toughest times of year for children who have experienced the loss of a parent. It's the time of year when everyone comes together as a family and not having your mum or dad with you at such a young age can make you feel very alone.
"By taking part in Bobble Hat Day and donating to Scotty's, you're helping us continue the vital support needed at this time of year and beyond. Scotty's is like a big family for our members and at Christmas we make sure they never feel alone."
Celebrities including Britain's Got Talent winner and Scotty's ambassador, Magician Lance Corporal Richard Jones, is backing the campaign. He said: "We're not all lucky enough to have our whole family around us at Christmas, and for children it's even harder, so please get involved, just a small donation will make a huge difference."
To take part in Scotty's Bobble Hat Day, wear your favourite, quirkiest bobble or festive hat on Friday 8th December and text 'BHAT17 £2' to 70070 and donate just £2.
Share your photos on Facebook, Twitter or Instagram using #BobbleHatDay.
For more information or to download your own Bobble Hat Day selfie board head to http://scottyslittlesoldiers.co.uk/bobblehatday/
-Ends-
Notes to editors
To speak to a member of the Scotty's Little Soldiers team, please contact Scotty's national PR agency: Claire Grew (claire@wolfstarconsultancy.com) or Chris Grayson (chrisg@wolfstarconsultancy.com) 0113 273 7816
About Scotty's Little Soldiers
Scotty's Little Soldiers, founded in 2010, honours Corporal Lee Scott's memory – both as a loyal soldier and a loving father – and provides a practical yet personal way for the public at large to show their appreciation for those brave individuals who make the ultimate sacrifice in the service of their country. Currently Scotty's Little Soldiers supports 331 bereaved children and runs a variety of programmes to help children smile again and look forward to a brighter future. You can visit the charity online at http://www.scottyslittlesoldiers.co.uk/