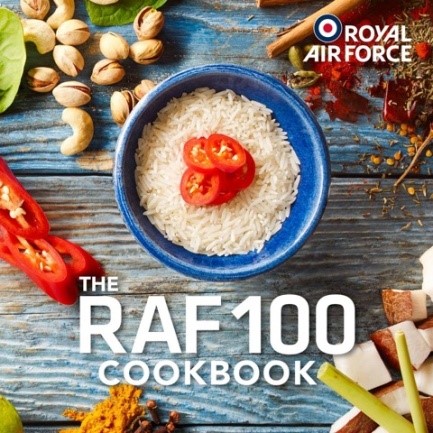 No need to wing it when it comes to creating a culinary masterpiece – get yourself a copy of the RAF100 Cookbook instead!
Researched, cooked, photographed and written by current or former servicemen and women, and dedicated, non-serving enthusiasts, the countries visited have all hosted an RAF presence in some way since the Service was founded in 1918.
The collection of 100 recipes have been put together in celebration of the Service's centenary next year and will take the diner on a journey through 100 different countries to sample 100 delicious dishes.
Each authentic recipe is served with a side dish of history of the RAF's involvement in the region, adding a little spice to the book and making it a tasty thread before and after dinner.
The book's co-creator Flt Lt Crispin Chapple explains a little more. He said: "The book has been a real labour of love for myself and JP [Sqn Ldr Jon Pullen] which has taken more than four years and more than 100 tastings to complete! But we are delighted with the way the project has turned out – alongside our amazing, award-winning Chef, ex-FS Stu Harmer, come some of the world's top chefs to serve up a real treat for food lovers."
There are contributions from household names like James Martin, Tom Kerridge and Cyrus Todiwala, plus ex-RAF chefs such as Rachel Humphrey, Executive Chef at Le Gavroche, and Graham Howarth, now Head Chef at Chequers.
A donation from all sales will be made to the RAF100 Appeal supporting the RAF Benevolent Fund, RAF Association, RAF Charitable Trust, RAF Museum and the Royal Air Force.
Bread and Butter Pudding
by Paul Ainsworth
Chef-patron at Paul Ainsworth at Number 6
English bread and butter pudding is the epitome of simplicity, but there are a few pointers to make it perfect. The bread should be stale, not fresh. White bread can be substituted with brioche, fruit loaf or left-over panettone at Christmas. Fruit can be soaked in rum, brandy or a liqueur, such as Cointreau, and should be layered in the pudding and not sprinkled over the top. Before baking, the buttered bread should soak up the vanilla-flavoured custard prior to topping up with a final layer of custard. It can be baked as it is, but cooking in a bain-marie allows it to cook and set evenly.
Ingredients
Serves 6–8
For the bread and butter pudding
12 slices of white bread
125g butter
30g sultanas
450ml double cream
150ml milk
2 vanilla pods, split lengthways and seeds scraped
7 large egg yolks
175g caster sugar
To serve
Good quality vanilla ice cream, fresh egg custard or a bit of both
Method
Butter the bread, remove the crusts and cut into triangles. Butter a five litre ovenproof dish to stop the bread baking to it.
Build up the bread in the dish like a jigsaw, sprinkling sultanas over each layer except for the top one – otherwise, you'll think of rabbits straight away when it comes out of the oven!
Now make your custard: bring the milk, cream and vanilla (pods and seeds) to the boil. Meanwhile, whisk your egg yolks and sugar together until they become very pale, almost beige. Pour the cream mixture over the egg mixture and stir with a wooden spoon, then place the bowl over some boiling water and stir the custard until it coats the back of the spoon.
Pass the custard through a sieve – not a fine one, you just want to get rid of the vanilla pod – then pour it over the bread leaving a bit behind to top up later.
Leave the pudding at room temperature for around 6 hours to soak up the custard, then top up with the excess custard and put the dish in a bath of water, or bain-marie, and place in the oven at 130°C. Cook for around 25 minutes until it has just a slight wobble.
Leave to cool slightly.
Sprinkle caster sugar on top and glaze using a blowtorch or under a hot grill to create a crispy top, then dish up.
Ends
For more information and high res images please contact: Rebekah Sharrock, PR Officer, RAF Benevolent Fund, E: rebekah.sharrock@rafbf.org.uk | T: 020 7307 335 | M: 07595 657979.
RAF Benevolent Fund: The Royal Air Force Benevolent Fund is the RAF's leading welfare charity. We exist to support current and former members of the RAF, their partners and dependants, whenever they need us. In 2016 we spent £17.6m supporting more than 65,000 members of the RAF Family. For more information visit:  www.rafbf.org Twitter: https://twitter.com/RAFBF