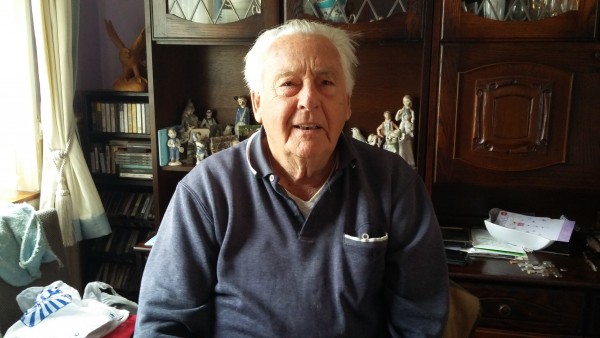 This National Eye Health Week (18 – 24 September) a Beeston RAF veteran who was signposted to national sight loss charity Blind Veterans UK by his Eye Clinic Liaison Officer (ECLO) is urging others to seek support.
Norman Green, 87, said: "It's hard to admit that you're going blind, particularly when you're used to being independent. I'll admit my pride stopped me seeking help when I probably needed it the most. I wish now that I'd got in touch with Blind Veterans UK much sooner."
Norman joined the RAF in 1950, a decision based on his childhood love of aircrafts. He trained as an instrument mechanic, a job that took him all over the world, and he spent a large proportion of his Service in Gibraltar working with Coastal Command.
Norman said: "The reality of that time in my life was a lot less glamourous than many people realise. We worked late at night fixing aircrafts in all kinds of brutal weather conditions, but I was motivated by the fact that I knew it was an important job."
Norman completed his Service in 1953 and lost his sight later in life due to macular degeneration. Two years ago he was dealt another blow when his wife of 61 years sadly passed away and he found himself struggling with both blindness and becoming a widower. Norman was eventually told about the free, lifelong support of Blind Veterans UK by Geoff Pickance, an ECLO at Queen's Medical Centre in Nottingham.
Geoff knows all too well how isolating blindness can be. After losing his own sight due to glaucoma, Geoff decided to pursue a career in supporting other vision-impaired people, giving them recommendations and signposting them to additional support.
Geoff said: "When I see people for the first time they can be ever so depressed about the things they can't do anymore. Charities like Blind Veterans UK are important because they show people with sight loss that they are not alone."
Norman joined Blind Veterans UK last year. He has visited the Blind Veterans UK rehabilitation centres on several occasions for training and respite, received specialist equipment to help him around his home, and been given a grant to help with the cost of maintaining his garden.
Norman said: "Blind Veterans UK has changed my life in all sorts of ways. I've stayed at the charity's centres several times and I've met other blind veterans which has made me feel less lonely. I've also been trained in how to use a tablet so that I can contact my family who live on the other side of the country. To blind veterans like me I'd say this: don't struggle with sight loss alone, because there is support out there."
Blind Veterans UK is the national charity for blind and vision-impaired ex-Service men and women, providing vital practical and emotional support to help veterans discover life beyond sight loss.
The charity estimates that there are currently more than 850 blind veterans in Nottinghamshire that would be eligible to access its specialist support, most of whom are not currently aware of it.
If you, or someone you know, served in the Armed Forces or did National Service and is now battling severe sight loss, find out how Blind Veterans UK could help by calling 0800 389 7979 or visiting www.blindveterans.org.uk.
ENDS
For all media enquiries please contact: Ruth Moore, Communications and Marketing Assistant, Blind Veterans UK, 12 – 14 Harcourt Street, London, W1H 4HD, E: ruth.moore@blindveterans.org.uk, T: 020 7616 7955
Notes to Editor
Blind Veterans UK
Blind Veterans UK (formerly St Dunstan's) is a national charity that believes that no-one who has served our country should have to battle blindness alone. It provides blind and vision impaired ex-Service men and women with lifelong support including welfare support, rehabilitation, training, residential and respite care.
The charity needs £100 million over 5 years to provide lifelong support to blind ex-Service men and women. Find out more at: www.blindveterans.org.uk, and follow us on Facebook at: facebook.com/blindveteransuk and on Twitter at: twitter.com/blindveterans.