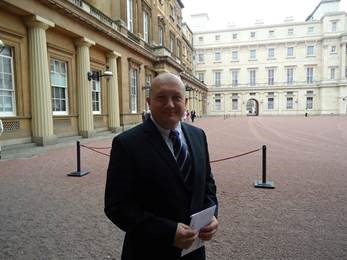 A man from Dover is training to complete the 100 kilometre walk from London to Brighton for Blind Veterans UK, the national charity for vision-impaired ex-Service men and women.
Berni Jenkins, 45 and born in Portsmouth, is aiming to complete the daunting course in under 30 hours, and is hoping to raise £1,000 for the charity.
Berni has an extensive military background himself, having served 24 years in the Army Air Corps, completing tours in Iraq and Afghanistan, before retiring from duty in 2013. Berni is excited but understandably apprehensive about the daunting task that lies ahead: "I'm looking forward to the challenge, but I'm a bit worried about my feet. I've also got a long-standing knee injury from rugby, so I'm just concentrating on going to the gym and eating well to make sure I arrive at the start line in the best possible shape possible with the help of friends and work colleagues"
Berni now works in the security industry, as well as for P&O Ferries, at Dover Docks. He's currently £30 over the mandatory £300 fundraising target, despite not having asked his family yet. Overall, Berni is hoping to raise an incredible £1,000.
He says: "Given my background in the military, I'm very active in looking at all military charities. I'm just keen to do anything I can to help publicise the work done by Blind Veterans UK."
Registration for the 100k, which will kick off in Fulham on Saturday 1 July, is currently open with a registration fee of £62.50 for the 100km. For those not wanting to walk the full distance there is also a relay option available for teams of four walking 25k each. Teams taking part in the relay have a registration fee of £110. The all-inclusive entrance fee for participants includes lunch, dinner and breakfast at three rest stops, snacks and refreshments along the route and a free event t-shirt.
The London to Brighton 100k challenge is Blind Veterans UK's biggest annual fundraiser and takes participants from a starting point in south west London, along the banks of the Thames, through countryside paths in Surrey, Sussex and the North and South Downs to the charity's centre in Ovingdean, Brighton.
To support Berni as he takes on the 100k for Blind Veterans UK, please visit https://www.justgiving.com/fundraising/BerniJenkins.
To sign up for the Blind Veterans UK 100k, please visit www.blindveterans.org.uk/100k.
For all media enquiries please contact: Felix Arbenz-Caines, PR Assistant, Blind Veterans UK, 12 – 14 Harcourt Street, London, W1H 4HD, E: Felix.Arbenz-Caines@blindveterans.org.uk, T: 020 7616 7941
Notes to Editor
Blind Veterans UK
Blind Veterans UK (formerly St Dunstan's) is a national charity that believes that no-one who has served our country should have to battle blindness alone. It provides blind and vision impaired ex-Service men and women with lifelong support including welfare support, rehabilitation, training, residential and respite care.
The charity needs £100 million over 5 years to provide lifelong support to blind ex-Service men and women. Find out more at: www.blindveterans.org.uk, and follow us on Facebook at: www.facebook.com/blindveteransuk and on Twitter at: twitter.com/blindveterans.