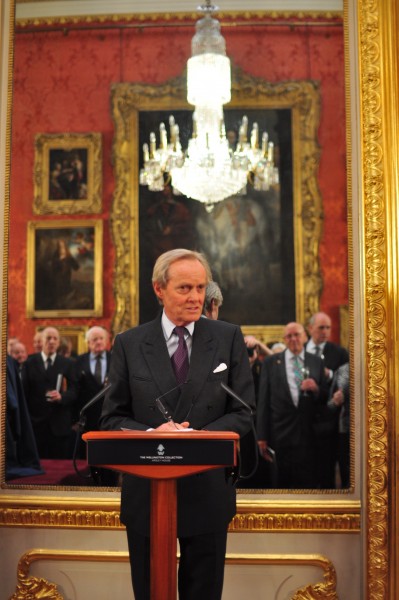 Exclusive Apsley House Event Reveals Plans for Memorial Sculpture to mark 300 years of service
Arthur Charles Valerian Wellesley, 9th Duke of Wellington, welcomed a host of guests to his Apsley House residence on Tuesday 6th March, in aid of the Duke of Wellington's Regiment Memorial Appeal.
The private drinks reception, held at 'Number 1, London', provided an exclusive unveiling of the memorial Maquette, created in honour of the Duke of Wellington's Regiment's 300 years of service to the Crown.
Created by world-class figurative sculptor, Andrew Sinclair, the completed memorial will be unveiled in Spring 2019 by the Duke, and will sit in the heart of Halifax, West Yorkshire, the home of the Regiment for over 200 years.
Andrew Sinclair, sculptor of the memorial said: "To be selected as the sculptor for this incredibly prestigious memorial is a wonderful honour. Having a great fascination for military history, I am very much looking forward to delving into the longstanding past of the Regiment and creating a sculpture which commemorates its admirable spirit and the qualities of the Yorkshire soldier within the design."
The Duke of Wellington said: "It was a great pleasure to host the reception at Apsley House to support the raising of £225,000 for the Duke of Wellington's Regiment Memorial Appeal. To unveil Andrew Sinclair's Maquette, which will sit in the heart of Halifax, home of the regiment for two centuries, was a fantastic moment for myself and the Regiment. To commemorate the three hundred illustrious years of the history of the Regiment is fantastic, and I wish the Regiment every success in their fundraising endeavours."
The memorial will honour the members of the Regiment who gave their lives to our country, acknowledge those who served in all battalions and recognise the families and their home county.
To complete the memorial, a further £150,000 needs to be raised to reach the target of £225,000. To donate to the Appeal, please follow this link: http://memorial.dwr.org.uk/#donate