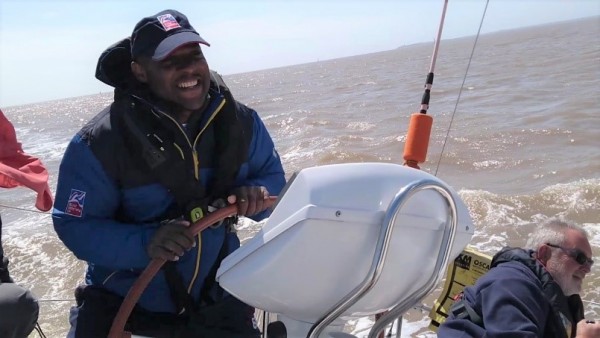 Six blind veterans from East Anglia have been taking to the waves and learning a new skill during a sailing taster day, provided by Blind Veterans UK and The East Anglian Sailing Trust.
Through the use of audio navigation units, tactile charts and Discovery Pens, the vision-impaired ex-Service men were able to fully partake in the exciting day of sailing in Levington, near Ipswich.
The blind veterans, who hail from Ipswich, Colchester, Ely and Southwold, fulfilled a variety of roles on the yacht, including: navigator, helmsman, mainsheet trimmer and grinder.
Ian Jewry, Trustee of The East Anglian Sailing Trust and Yachtmaster says: "The audio navigation device includes a fluxgate compass which beeps when the boat goes off course, meaning a vision-impaired helmsman can steer the boat."
He continues: "The new kit we're really excited about are the tactile charts and Discovery Pens. The raised areas on the charts show the positions of landmarks like buoys and sandbanks. When you put the Discovery Pen on that area, you hear further information, allowing someone who is vision impaired to fully partake in the planning of a route through touch and audio."
Roan Webb, 49 and from Ipswich, was one of the blind veterans to enjoy the trip. He says: "I went sailing for one day and enjoyed it so much that I asked to come back for a second. I had another fantastic day on the water and I'm thinking of taking this to the next level by becoming a member of a club."
Roan joined the Royal Artillery in 1986 and was posted to Germany where he was stationed for four years until he was discharged as a Gunner in 1990 due to his sight loss.
Roan explains: "I have something called Retinitis Pigmentosa, which is believed to be a hereditary condition. I suffer at the lighter end of the spectrum whereas there are many of my peers who have lost almost all their sight. I haven't yet, so I try to do as much as I possibly can while I still have the sight that I do today."
He continues: "Blind Veterans UK has helped me in numerous and varied ways. At first it was just great to meet the staff and other veterans supported by the charity and realise that I wasn't alone. Then I started getting involved in lots of events and I haven't looked back since. Blind Veterans UK have given me equipment which show that by making small adaptations, it's possible to do things that I never thought I would have been able to do."
Blind Veterans UK was founded in 1915 and the charity's initial purpose was to help and support soldiers blinded in the First World War. But the organisation has gone on to support more than 35,000 blind veterans and their families, spanning the Second World War to recent conflicts including Iraq and Afghanistan.
For more than a century, the charity has been providing vital free training, rehabilitation, equipment and emotional support to blind and vision-impaired veterans no matter when they served or how they lost their sight.
If you know someone who has served in the armed forces and is battling sight loss that could receive their support, please get in touch on 0800 3897979. Visit blindveterans.org.uk/support to learn more about the charity and how you can support its vital work today.
ENDS
For all media enquiries please contact: William Witt, Regional Marketing & Communications, Executive (East), Blind Veterans UK, 12 – 14 Harcourt Street, London W1H 4HD, E: william.witt@blindveterans.org.uk, T: 07599 556664
Other images are available on request
Notes to Editors
Blind Veterans UK
Blind Veterans UK is a national charity that believes that no-one who has served our country should have to battle blindness alone. Founded in 1915, the charity provides blind and vision impaired ex-Service men and women with lifelong support including welfare support, rehabilitation, training, residential and respite care.
Find out more at: blindveterans.org.uk, follow us on Facebook at: facebook.com/blindveteransuk and on Twitter at: twitter.com/blindveterans.
East Anglian Sailing Trust
The East Anglian Sailing Trust (EAST) provides children and adults with disabilities with regular opportunities to access and enjoy sailing activities whilst promoting enhanced independence, confidence and community involvement. It operates from Suffolk Yacht Harbour, Levington, near Ipswich on the beautiful River Orwell.
Find out more at: east-anglian-sailing-trust.org.uk