Lance Corporal Ruaidhri Bird, 28 from Edinburgh, has raised over £1,000 for the bereaved Armed Forces children of Scotty's Little Soldiers this month, completing the Athens Marathon in 5 hours 39 mins.
Pushing his body to its limit, Ruaidhri decided to TAB (run / fast walk) the Athens marathon on 10  November, carrying a 20kg Bergan (rucksack) in order to up the ante. Ruaidhri, who has served for eight years in the Royal Engineers, was determined to raise money for a cause which both he and his regiment hold dear.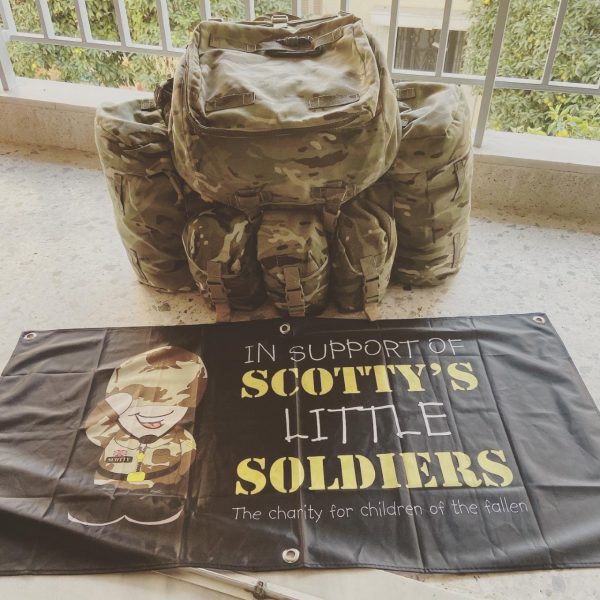 Founded by war widow Nikki Scott, Scotty's Little Soldiers is a national charity which provides support to children across the UK who have lost a parent who served in the British Armed Forces. The charity was set up in memory of Nikki's husband and father to her two children, Corporal Lee Scott, after he was killed in Afghanistan in 2009.
Ruaidhri first heard about Scotty's Little Soldiers through a colleague who explained the charity's purpose along with why it was started by Nikki Scott. Since learning about Scotty's, his regiment has continued to  help out where they can, raising money for the charity.
Discussing why he undertook the challenge, Ruaidhri explained:
"My fiancé came up with the idea of running the Athens marathon, so I too wanted to get involved. I decided to put an army spin on things by carrying a Bergan and overall it went well, despite it being a huge challenge. 

"Doing it for Scotty's Little Soldiers made it extra special; it's incredibly commendable what they do for families who have lost someone. Our regiment is always looking for opportunities to raise money for Scotty's and this was another good one.

"Scotty's is a very special charity and it's hard for some people to fully understand the positive impact it has on young children. Being a constant outlet of support following the death of a parent is enormous and Scotty's will help keep children on the right path as they grow up. I'm proud to have raised money for them and will continue to do so where I can."
Scotty's Little Soldiers currently supports 397 bereaved Forces children across the UK, offering integral support when they need it the most.
Commenting on Ruaidhri's fundraising activity, charity founder, Nikki Scott, said: "On behalf of everyone at Scotty's Little Soldiers I want to say a massive thank you to Ruaidhri for taking on the Athens marathon and raising money for us. Without regular fundraisers we simply would not be able to continue to support our members in the way that we do. We're tremendously grateful when we see people from the Forces raising money for Scotty's in their spare time."
To donate to Ruaidhri's Just Giving page, visit: https://www.justgiving.com/fundraising/Birdy-51
To learn more about how you could help Scotty's Little Soldiers visit: http://scottyslittlesoldiers.co.uk/
Contacts
To speak to a member of the Scotty's Little Soldiers team, please contact Scotty's national PR agency: Claire Lomax (claire@wolfstarconsultancy.com), Chris Grayson (chrisg@wolfstarconsultancy.com), Rochelle Tattersall (rochelle@wolfstarconsultancy.com) or 0113 273 7816.
Notes to editors:
Scotty's Little Soldiers, founded in 2010, honours Corporal Lee Scott's memory – both as a loyal soldier and a loving father – and provides a practical yet personal way for the public at large to show their appreciation for those brave individuals who make the ultimate sacrifice in the service of their country.
Scotty's Little Soldiers provides its members with support and guidance throughout their childhood and offers a respite, however brief, from the daily ups and downs of coping with the loss of a parent. It does this through three programmes. 'Smiles' offers children the opportunity to smile and laugh again through a wide range of activities and gifts.  The 'Support' programme aims to assist with the more emotional side of bereavement and includes access to professional counselling and a family support network.  The 'Strides' programme helps with the charity's members personal development and includes a range of activity and educational grants.
In 2018 Scotty's Little Soldiers was honoured to be one of seven charities chosen to benefit from donations marking the wedding of Prince Harry and Meghan Markle.