Keen rider and bicycle mechanic, Keith Hicks, took on an epic cycling challenge in the summer and has raised £1,416 for Worthing-based charity, Care for Veterans.
Now in its sixth year, the Transcontinental Race is a 4,000-kilometer bicycle race across Europe.
Starting in Belgium, the sixth edition of the race took riders through several countries, including Austria, Slovenia, Poland and Bosnia, where mandatory Control Points guided them across the continent to finally cross the finish line in Greece.
Participants must plan, research and navigate their own course, choose when and where to rest, all whilst carrying their belongings with them.
Keith's father, who was ex-Army, was once a resident at Care for Veterans before he passed away in 2010. Keith explained, "My Dad was very poorly for a long time before he passed away. He needed a lot of specialist care around the clock. This difficult time was made so much easier by everyone at Care for Veterans, so I decided to take on the TCRNo6 in aid of this amazing charity."
Keith completed the race in 16 days. He explained, "It was more challenging than I thought. The Transcontinental Race is a self-supported race with strict rules about completing it alone, however it's wonderful to see the same faces out on the road. It really helped perk me up and spur me on as there was a great sense of camaraderie."
He said one of toughest moments came when riding through Bosnia and his GPS system stopped working: "Bosnia is a stunning country, but it is very rural. The computer on my bike stopped working so I didn't know where I was going for a while. It was really tough; there was nowhere to buy food or to top up my water bottle. I got chased by a few dogs too, which did help me to pedal faster!"
Keith said he stayed motivated by thoughts of his family and friends, his colleagues at cycle café bar and workshop, Look Mum No Hands!, and all those who had sponsored him: "Knowing that people are watching you online spurs you on. Obviously, it was a personal challenge that I wanted to complete for myself too, so you're racing against the clock. I just knew I wanted to cross that finish line in Greece."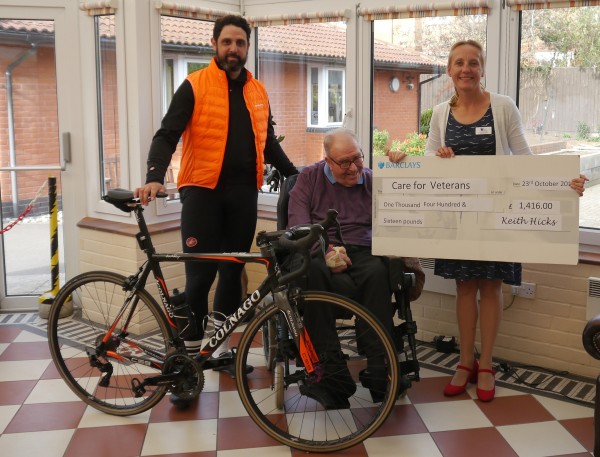 Image: (L-R) Keith Hicks, Care for Veterans' resident, Michael Saunders, and Fundraising Officer, Christine Gillott
Another huge motivation came just before he left for Belgium – he found out he was going to be a Dad! He said, "I am extremely thankful to my lovely girlfriend for letting me go, considering the circumstances. I called home a lot so that I could check on her, but also to reassure her that I was ok. There were times I questioned myself, but I knew I had to keep going."
The money Keith has raised will go towards the care and rehabilitation of disabled ex-Service personnel at Care for Veterans. He said, "I am so thankful to everyone who sponsored me, as this really helped get me through the race. I'd also like to say thank you to Rapha, Knog, Jam Cycling and Metier Cycling for all their support. I couldn't have done this without them."
About Care for Veterans:
Care for Veterans (formerly The Queen Alexandra Hospital Home) was established in 1919 – the charity celebrates its 99th anniversary this year (2018).
Care for Veterans is a registered charity, providing care and rehabilitation for physically disabled ex-Service personnel and their families. Our residents' needs are complex and many have multiple disabilities. Many have an Acquired Brain Injury and some have neurological disorders such as Parkinson's or Multiple Sclerosis. Others are paralysed or do not have use of their limbs and some are terminally ill. We support on average 140 residents a year.
We care for up to 60 residents at any one time.
Our residents are aged between 33 and 100.
Our residents represent the tri-services: Royal Navy, Army and RAF.
Services at Care for Veterans include nursing, physiotherapy, occupational therapy, speech and language therapy, an active social and recreation department, rehabilitation kitchen, a chaplaincy service, counselling, IT facilities, a rehabilitation garden, sensory room, coffee shop and function room and regular outings on our specially adapted coach.
With no regular government funding, Care for Veterans must raise over £1.9 million each year to maintain its nursing and rehabilitation services for ex-Servicemen and women.
For more information, click here.