A choir made up of blind veterans from Essex have made their debut performance at 'The Lawn', a beautiful Manor House in the heart of the county.
The ten vision-impaired ex-Service men, who served in a variety of regiments and roles, represent all three branches of the British Armed forces: Army, Navy and RAF.
The choir, named Vision In Song, have an average age of 85 and perform an assortment of numbers from war-time classics to patriotic anthems and jazz hits.
They meet weekly for rehearsals where they are supported by choir mistress Jane Gould, accordion player Margaret Hunter and volunteer Reg Morris.
Click here for a video of Vision In Song performing a stirring rendition of 'We'll meet again' by Vera Lynn.
The men hail from a variety of communities across Essex including Basildon, Colchester, Dunmow, Maldon, Chelmsford, Harwich and Halstead.
The choir was born when Jennie Hammond, Essex Community Team Leader for Blind Veterans UK, made a home visit to a blind veteran who told her of his desire to sing again.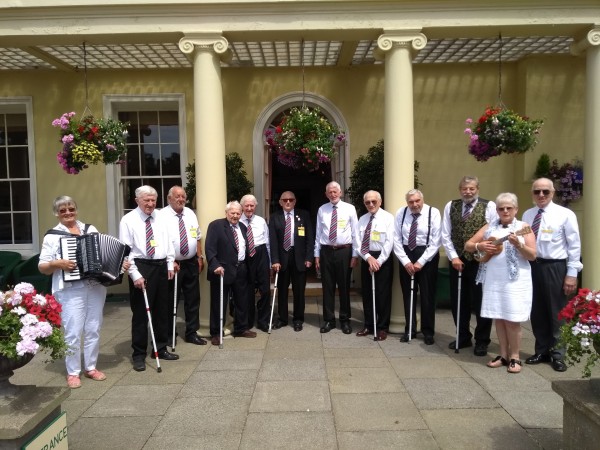 Jennie says: "I visited Danny at home and was really moved by his story. His great love was singing but when he lost his sight he was unable to be accommodated by his old choir. I made it my mission to make sure Danny could sing as part of a choir group again."
Danny Williams, 77-year-old Army veteran from Harwich, recalls it well: "Jennie asked me what I missed most since my sight loss and without hesitation I told her it was being part of a singing group. Words cannot express how much joy Vision In Song has given me and I'm so thankful to Jennie and Blind Veterans UK for making it happen."
Ted Cruse, 81 and from Basildon, is another of the choir members. He says: "I was a choir boy as a child and even sang at the Queen's coronation at Westminster Abbey, having been classed as 'pitch-perfect' during Sandringham choir camp."
Ted served within the Royal Artillery as a wireless operator between 1954 and 1960. It was later in life at age 62 when he was diagnosed with glaucoma which would eventually leave him with just one per cent vision in one eye and six per cent in the other.
He continues: "Vision In Song has given all of us a chance to sing again when we thought we never would. There is a real sense of camaraderie in the group and we all really look forward to rehearsals."
Vision In Song's next performance will be on September 14 at Aldwickbury Golf Club in Harpenden, Hertfordshire.
Blind Veterans UK was founded in 1915 and the charity's initial purpose was to help and support soldiers blinded in the First World War. But the organisation has gone on to support more than 35,000 blind veterans and their families, spanning the Second World War to recent conflicts including Iraq and Afghanistan.
The charity has a dedicated community team in Essex who provide support including training, equipment and social events for vision-impaired ex-Service men and women in the local area, no matter when they served or how they lost their sight.
If you know someone who has served in the armed forces and is battling sight loss that could receive their support, please get in touch on 0800 3897979. Visit blindveterans.org.uk/support to learn more about the charity and how you can support its vital work today.
For all media enquiries please contact:
William Witt
Marketing & Communications Executive
Blind Veterans UK
E: william.witt@blindveterans.org.uk
T: 07599 556664
Notes to Editors:
Blind Veterans UK
Blind Veterans UK is a national charity that believes that no-one who has served our country should have to battle blindness alone. Founded in 1915, the charity provides blind and vision impaired ex-Service men and women with lifelong support including welfare support, rehabilitation, training, residential and respite care.
Find out more at: blindveterans.org.uk
Follow us on Facebook at: facebook.com/blindveteransuk
And on Twitter at: twitter.com/blindveterans.