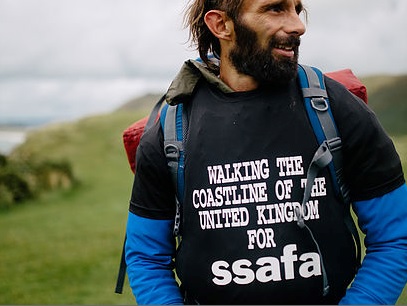 From the 1st August 2017, military veteran Chris Lewis will be embarking on an epic journey to walk the entire UK coastline – with all proceeds raised being donated to SSAFA, the Armed Forces charity.
Chris will be starting his adventure on Llangennith Beach in Wales, before heading north into Scotland and then back down the east coast and across the south coast.
Far from being a walk in the park, Chris will be embarking on his challenge with absolutely zero funds, and will be relying on the goodwill of both the public and local businesses to supply him with all the food, water, accommodation and equipment he needs for each leg of his journey.
Chris has felt inspired to carry out this challenge on behalf of SSAFA, after being supported by the charity after leaving the armed forces. Having previously served as part of the 2nd Battalion Parachute regiment, Chris suffered some challenging times since returning to civilian life. Chris was not equipped with life skills, many of take for granted, like dealing with bills, letters and debt, and being a single parent looking after his teenage daughter, he and his daughter found themselves homeless.
Talking about his experience leaving the forces, Chris says, "I was just pretty lost, I didn't know where to turn. The Army doesn't teach you those little life skills for example, dealing with bills, letters, debt; it's hard to do. When we became homeless I made contact with SSAFA and they helped me through it.
If it hadn't of been for SSAFA I would have been in big trouble. I don't know where we would be, whether or not social services would have taken her away, not because of my parenting, but the situation we were in. It wasn't a good one."
Having recently finished school, Chris' daughter is now moving to attend a college in Bournemouth, where she will stay with family. This has given Chris the opportunity to do what he loves and challenge himself to an outdoor physically intense task, and give back to those who have helped him along the way.
Speaking about the challenge ahead, Chris says, "I am in my element when outdoors, from surfing and coasteering to intense physical training, which has hopefully prepared me for the task ahead – a walk of approximately 14,000km.
I am starting with no money and will be solely relying on the goodwill of the British public and companies donating what food, water, accommodation and equipment they can to help me on each leg of the journey.  I'm overwhelmed by the support and generous donations so far, please follow my journey and come and say hello if you spot me along the way!"
SSAFA Fundraising Director, Tegan Jones, says, "Chris' story is extremely poignant and one that is very common in veterans. Whilst the armed forces train its personnel in many skills, general civilian life skills are not always taught. If you are someone who enlisted in service from a young age and then leave in your late twenties or thirties and above, you will no doubt struggle with the tasks that others take for granted. We are here to help veterans from the beginning to get their life on track, and stop them going down the path Chris did.
It is so inspiring to see Chris taking on this incredibly difficult challenge to raise awareness of SSAFA, the Armed Forces charity, and test himself mentally and physically. We wish him the best of luck and look forward to hearing about his amazing adventure."
– ENDS –
Notes to editors
To find out more about the challenge please visit – www.chriswalks.com
Or to donate, please visit – www.justgiving.com/fundraising/chriswalks
About SSAFA:
SSAFA, the Armed Forces charity (formerly known as the Soldiers, Sailors, Airmen & Families Association), provides lifelong support to anyone who is currently serving or has ever served in the Royal Navy, British Army or Royal Air Force, and their families. This includes both regulars and reserves.
Each year, our professional staff and network of more than 7,000 volunteers provide assistance to some 55,000 people, ranging from World War Two veterans to the families of young servicemen and women wounded or killed in Afghanistan.
For more information visit www.ssafa.org.uk and follow us on Twitter: @SSAFA.