Forces' families recognise the value of the Digital Personal Child Health Record – commonly known as the eRedbook – launched in 2019 by the Cyprus-based Community Health Team of SSAFA, the Armed Forces charity.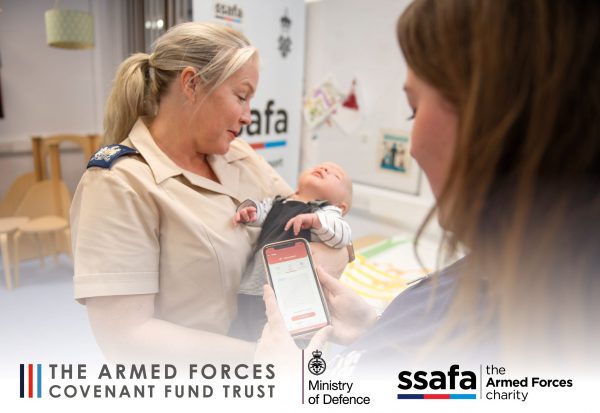 The eRedbook is a parent-held health and development record which allows access to your child's personal health and development records wherever the family is. It is a simple and convenient service for Forces' families who may move often and need to securely store and access information on their child's health.
Now, with a grant – the funding is from the MOD Armed Forces Families Fund administered by the Armed Forces Covenant Fund Trust – the eRedbook scheme can expand this service to more parents and more children wherever UK Armed Forces are stationed including Cyprus, Sennelager, BATUS (British Army Training Unit Suffield in Canada), Gibraltar, Brunei, and BATUK (Kenya).
The grant will enable SSAFA to develop functionality within the eRedbook to better support families as they transition to overseas postings and enter bespoke information for each location, including community health services such as the local Health Visitor details and other vital support.
This will enable families to access key information at the point of need, for example domestic abuse helplines and – discreetly – advice, local emergency numbers, local contacts for welfare and support agencies, and signposting to UK resources such as Mind, Kooth, ICON, and the Child Accident Prevention Trust.
Melanie Ponomarenko, Cyprus-based SSAFA Public Health & Engagement Manager, said:
"It's fantastic to be able to offer our families the eRedbook, not only ensuring they are able to access key information and advice empowering them take control of their child's health but also ensuring that they are able to access the same digital health tools that families in the UK are beginning to access under digital health plans."
Cathey Horsfall, Head of Consulting & Digital Experience at eRedbook developer Sitekit, said:
"Sitekit is delighted to be able to support SSAFA as they improve digital service to parents across the Armed Forces."
For more information about SSAFA's Community Health Team, visit ssafa.org.uk/get-help/ssafa-community-health-overseas.