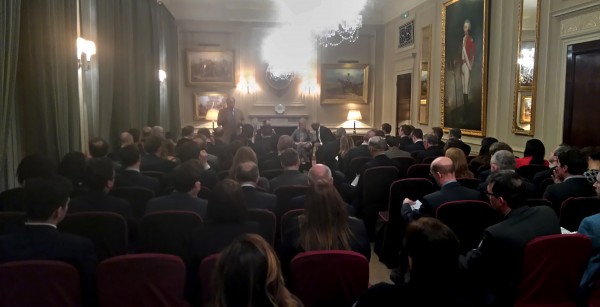 On Tuesday evening at The Cavalry and Guards Club in Piccadilly, F4H held its inaugural forum on leadership.   Speakers included Roger Davis (Chairman F4H, Former Head of Barclays UK), General Sir Nick Parker (Former Commander in Chief, British Army Land Forces), Evelyn Bourke (Group CEO BUPA), and Anton Oliver (Former Captain of the All Blacks).
An excellent evening where each unique style and view of leadership was aired and discussed – highs and lows, strengths and weaknesses (of themselves and others) – with insights to how the All Blacks prepare, how to lead and navigate an international team through challenging times, and how to lead and build on relationships with similar-minded organisations.
Huge thanks to the C&G Club for supporting us with the use of their facilities, Simon Jacot de Boinod of Forum Club who helped draw it all together, as well as our speakers who gave us so much.  Lastly, of course, thanks must be extended to all those who attended and dug so deep.