Veterans of the Falklands War and families of those who lost their lives in the conflict will take centre stage during commemorations to mark its 40th anniversary this spring.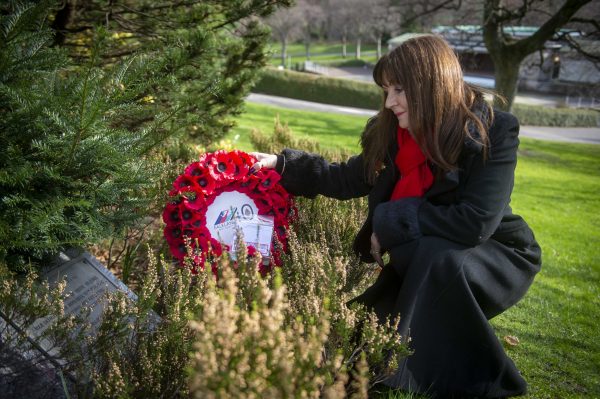 Leading military charities Legion Scotland and Poppyscotland today (MONDAY 7th MARCH) launched a programme of commemorative events in partnership with the Armed Forces and the Scottish Government, to remember the conflict which took place between April and June 1982.
The programme will culminate in a national parade and service of remembrance in Edinburgh on Saturday, June 18th. Falklands veterans and bereaved relatives are also invited to attend the UK-wide service at the National Memorial Arboretum in Staffordshire on June 14th, the anniversary of the ceasefire.
Other activities will include a package of resources for schools to allow young people to learn more about conflict as part of Poppyscotland's wider learning programme. Poppyscotland's interactive mobile museum, Bud, will also visit schools in areas which have a close connection to the conflict, including Arbroath, which is home to 45 Commando, the Royal Marine unit which played a key role in the liberation. An event that will see pipers across the globe join in tribute to those who fell will also form part of the commemorations.
Theresa Davidson, from Glenrothes, whose husband Lance Sergeant Clark Mitchell was killed on the day of the Argentine surrender, joined the charities to lay a wreath at the Falklands Memorial Garden in Princes Street Gardens, Edinburgh. There, she spoke for the first time of her years of heartache following his loss and the importance of remembering the sacrifices of all those who served.
The conflict began on April 2nd, 1982, when Argentina invaded the Falkland Islands, a British overseas territory in the south-west Atlantic Ocean. In total, 255 British servicemen, 649 Argentine military personnel, and three civilians died, and many more were wounded.
Mrs Davidson, 65, a foster carer, was just 25 when she was widowed in the conflict. Lance Sergeant Mitchell was one of eight Scots Guards killed in the Battle of Mount Tumbledown in the early hours of June 14th.
She said: "
I remember it as if it were yesterday. I was in our quarters at Lasswade, Midlothian, when an officer and his wife came to the door to tell me the news. My world just fell apart. I lost everything: my husband, my best friend, the family we wanted together."
She had met Clark, then a junior soldier from Laurencekirk, Aberdeenshire, at the age of 17 when she was training with the Women's Royal Army Corps. After an "amazing" six years of married life in Germany and England, they had returned to Scotland and were hoping to start a family when the conflict began.
Mrs Davidson said:
"Nobody knew anything about the Falklands – we thought they were up in the north of Scotland. It was only when we saw the map, we realised they were 8000 miles away.

"When he was away, I had this dreadful fear, and just lived for the news. On the morning of the 14th I felt so happy and thought 'Thank God the war is over'. But then it was like something had hit me, and I knew something had happened to Clark.

"Losing Clark changed me, and it took me years to rebuild my life. He was an extremely good soldier, but he was also very gentle, kind and caring, with a great sense of humour and zest for life. I will never forget him or the sacrifices he and the other men made. To me it's about keeping their memories alive."
Poppyscotland and Legion Scotland are sharing the stories of veterans and their families in the run-up to June. They are encouraging people to reflect on the Falklands and other recent conflicts, and recognise the contribution made by our Armed Forces community.
Recalling his memories of serving on the front line in the Falklands, Keith Brown MSP said:
"I am delighted to be able to partner with Legion Scotland and Poppyscotland to deliver a national event in Edinburgh to commemorate the 40th anniversary of the Falklands War on 18 June 2022. 

"As we approach the 40th Anniversary I look forward to participating at a variety of events and commemorations to pay tribute to the heroism of those brave men and women who made up the Task Force which set sail to free the Islands. This is also a time for reflection and a chance to remember all those who lost their lives and to those who made an enormous contribution during the conflict, including civilians and dockyard workers."
Unveiling the programme of Falklands 40 events, Dr Claire Armstrong, Chief Executive of Legion Scotland said:
"The Falklands conflict was the first military action since the Second World War which involved all elements of the Armed Forces. Although it lasted just 74 days, it claimed the lives of hundreds of servicemen and had a lasting impact on thousands more, as well as their families. Many veterans still struggle with physical or mental scars, or have faced hardships in the years afterwards.

"Between April and June, communities across Scotland will be commemorating the 40th anniversary of this conflict and reflecting on the service and sacrifice of so many. We are pleased to be able to hold a national Scottish event in Edinburgh to engage with our Armed Forces, Legion Scotland members and the wider public, and would encourage everyone to play an active part in the commemorations. We would also love to hear from anyone who is planning a commemorative event in their community so we can help to promote this alongside the other Falklands 40 events."
Mark Collins, Interim Chief Executive of Poppyscotland, said:
"We want to remember the extraordinary efforts of thousands of service personnel, the civilians who played a vital role, as well as their families. This is also a chance for people of all ages to learn more about the Falklands conflict and how it has shaped our recent history.

"Poppyscotland's learning programme will reach schools around the country, engaging young people and showing the impact that the conflict had on people and communities. By sharing veterans' stories, we can bring their experiences to life, as well as highlighting the role our Armed Forces play today and how we can support them and their families."
For more information of the Falklands 40 commemorative events programme visit www.poppyscotland.org.uk/Falklands40. Bereaved families are entitled to free transport to the National Memorial Arboretum event – call 0808 802 8080 for more details.