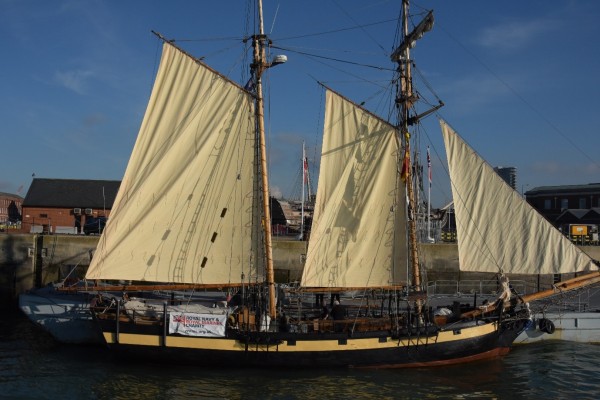 A replica schooner that sent news of victory at the Battle of Trafalgar and of the death of Admiral Lord Nelson arrived in Portsmouth for November's Pickle Night.
HMS Pickle set sail from Kingston Upon Hull on the 25th October and made her way down the eastern coastline, stopping at Harwich, Dover and Eastbourne before completing her journey in Portsmouth.
Arriving on November 1st, the now privately owned schooner, welcomed on board a mix of individual crew member, serving naval personnel and civilians.
The journey, which was partially funded by the Royal Navy and Royal Marines Charity (RNRMC) and the Gosling Foundation, marks the annual celebration of Pickle Night on the 4th November and the achievement of HMS Pickle.
Originally commanded by Lieutenant John Lapenotier, HMS Pickle was a fast-moving schooner in Admiral Nelson's fleet during the Battle of Trafalgar in 1805.
At the end of the battle, Pickle raced across hundreds of miles to deliver news that the Battle of Trafalgar had been won and that Lord Admiral Nelson had been killed. Upon his arrival in London, Lapenotier famously declared, "Sir, we have won a great victory, but we have lost Lord Nelson!"
Today, HMS Pickle can sail at a top speed of 14 knots with a motorised engine and modern tracking devices. The journey undertaken by the crew on board Pickle was straightforward, despite breaking a spar that had to be fixed in Harwich.
Speaking about their journey from Hull to Portsmouth, Warrant Officer Paul Jackson Said:
"The crew is incredibly happy to be here. We all enjoyed the trip and the Royal Navy guys have made some really good friends throughout the journey. We are looking forward to attending Pickle Night, as well as having some of the crew from Victory joining us."
"This wouldn't have happened without support from the RNRMC and we're all aware and thankful of that. As is the Captain, Mel Nicholson. We put the [RNRMC] banners up and he was very proud to have them up on the side of his ship. They'll be up all the way back to Hull."
Director of Relationships and Funding at the RNRMC, Mandy Lindley said:
"Witnessing HMS Pickle's arrival in Portsmouth's dockyard on Friday was a wonderful sight to behold."
She continued:
"Our mission as a charity is to provide world-class support for our naval family through effective grant giving. It is also to help boost sailors and marine's morale through unique and diverse opportunities. HMS Pickle's journey, which was not only supported by the RNRMC but also by the Gosling Foundation, exemplifies this aim. Well done and thank you to the crew on board, I hope they enjoyed Pickle Night."
*ENDS*