Chris Lewis, ex-Paratrooper, has been walking around the UK to raise money for SSAFA, the Armed Forces charity and has so far raised over £320,000.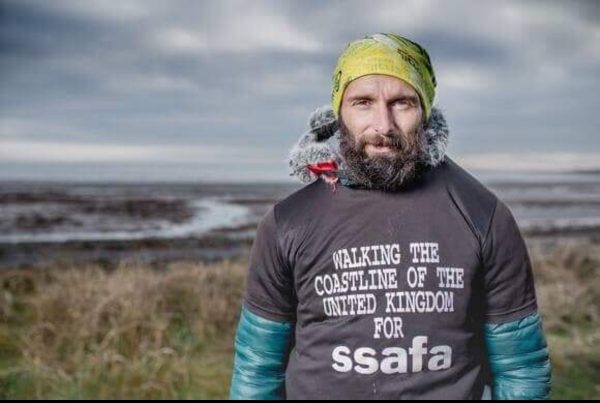 He has written a book about his adventures, and is attending a book signing day at Waterstones in Plymouth on Sunday 5 March from 11.30am.
Christian Lewis had hit rock bottom, suffering with depression so severe he would shut himself in his bedroom for weeks. Then, in August 2017, while surfing – his only respite – he cast his eyes along the rugged coastline and found himself irresistibly drawn to it.
Chris said:
"Each one of us has the potential to be happy, and I knew that if I stayed here where I was, doing what I'd been doing, I was on the spiral in the opposite direction: to nowhere and worse. As I looked at the grassy sand dunes and driftwood-strewn beach disappearing into the horizon as if it went on for ever, I heard a voice in my head.  'Walk the UK coastline,' it said."
Making an impulsive decision to set himself a challenge – to walk the entire coastline of the UK – he gave himself a few days to rustle up a tent and walking boots, then left for good with just a tenner in his pocket and two days' worth of food. Little did he know at the time just how long it would take to cross the finish line – and the encounters that lay ahead that would turn his life around.
Having made his way around Wales, he then navigated the West Coast, Northern Ireland, the hard-rock cliffs of Scotland and the perimeters of the Scottish Islands – where he spent three months on an uninhabited island called Hildasay, where there was no fresh water or food. It was there, the most barren his route had become, that the more pride and respect he found within himself – and the more remarkable his journey became. Happiness and hope was just around the corner.
From adopting a dog called Jet, to finding love with fellow adventurer, Kate, Chris had no idea that when he started this remarkable experience that he would be heading to the finish line (some five-and-a-half years later) with a fiancee, a baby and a renewed sense of purpose. His story is one of survival and hope, but it's also proof that, with a renewed mindset, anything is possible.
Finding Hildasay is Christian's first book about his journey, which has already received worldwide attention, a BAFTA-nominated documentary and more. You can meet Chris and Kate at the book launch on Saturday in Winstone's book shop in Sidmouth.
Sir Andrew Gregory, CEO of SSAFA said:
"The word 'inspiration' is often overused; Chris really is an inspiration.  I urge you to read his tale".