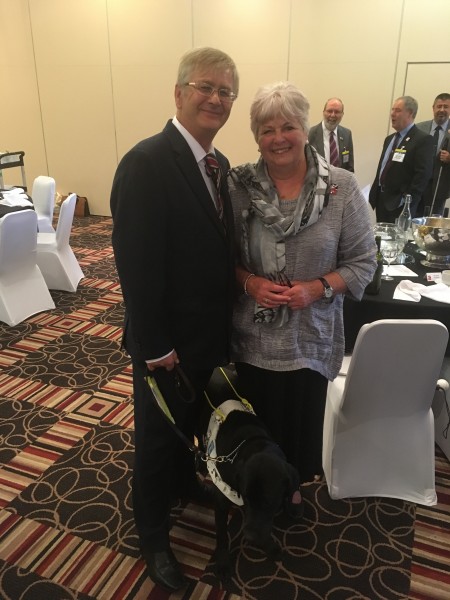 A Wiltshire blind veteran is celebrating a new relationship this Valentine's Day after finding love with a fellow veteran through Blind Veterans UK. Lindy Elliott, 71 and from Mere, met Graham Ward, 59 and from Fleetwood, last year.
Both Lindy and Graham have received specialist support from Blind Veterans UK since losing their sight.
Lindy says: "Sharing your life with someone is so special and Graham and I feel lucky to have found each other. The moment we met we just clicked. We felt like we'd known each other for years."
Lindy joined the Women's Royal Naval Service (WRNS) in 1965. During her Service she was drafted to Singapore and later worked as a cypher for the Ministry of Defence before being demobbed as a Leading Wren in 1969. Graham joined the Royal Air Force (RAF) in 1975, serving at RAF Wittering, Cottesmore and Brize Norton as a Steward. He was discharged as a Leading Air Craftman in 1976.
Graham says: "We laugh all day long together. I think it's partly down to the fact we share that same Forces humour. She makes fun of me for being in the RAF and I make fun of her for being in the Navy. Having that shared experience of serving in the Armed Forces just brings us even closer together."
Lindy and Graham both lost their sight later in life; Lindy due to diabetic retinopathy and Graham due to glaucoma. They joined the charity in 2012 and 2013 respectively but despite both attending charity events like the Blind Veterans UK Centenary Garden Party at Buckingham Palace and a Service of Thanksgiving at Westminster Abbey in 2015, the couple only met in July last year.
Graham says: "We met under the arches at Brighton Station when we were both headed for a week's stay at the Brighton rehabilitation and training centre. That whole week we were inseparable. On our final day Lindy invited me to visit her in Mere and the rest is history!"
Lindy says: "He walked up to me with such confidence that I felt sure I knew him, so I asked if we'd met before. We hadn't of course, but from that very moment we became very attached to one another."
Lindy and Graham are very active in the charity and both frequently attend social events and reunions organised by Blind Veterans UK. More recently they attended a ceramics course at the charity's rehabilitation centre in Llandudno, where they learned to create mosaics.
Lindy says: "Losing your sight is a very frightening experience. But we can both honestly say that the support of Blind Veterans UK has transformed our lives. We've received equipment to make life easier for us at home, IT and craft training, and we've even found each other thanks to the charity."
Graham and his guide dog Clyde have been staying with Lindy down in Wiltshire and are planning on making the move permanent this year. Lindy has even turned her garden shed into a mosaic workshop so that Graham can continue to pursue his new hobby at her house.
Lindy says: "We're in the process of turning two lives into one, which is exciting. I always say I found a man and I got a lovely dog thrown in for free. My house is a lot livelier with the pair of them but I wouldn't have it any other way!"
Graham says: "We've already had so many adventures together, including marching at the Cenotaph in London with Blind Veterans UK back in November. I couldn't wish for a better Valentine, and I'm excited to see what the next year holds for us!"
Blind Veterans UK is the national charity for blind and vision-impaired ex-Service men and women, providing vital practical and emotional support to help veterans discover life beyond sight loss.
Blind Veterans UK estimates that there are nearly 600 ex-Service men and women in Wiltshire battling severe sight loss who could be eligible for the charity's support but who do not realise it. It doesn't matter when or how a veteran lost their sight, or when they served, Blind Veterans UK can help.
If you, or someone you know, served in the Armed Forces or did National Service and is now battling severe sight loss, find out how Blind Veterans UK could help by calling 0800 389 7979 or visiting blindveterans.org.uk
For all media enquiries please contact: Ruth Moore, Communications and Marketing Assistant, Blind Veterans UK, 12 – 14 Harcourt Street, London W1H 4HD, E: ruth.moore@blindveterans.org.uk, T: 020 7616 7955
Notes to Editor
Blind Veterans UK
Blind Veterans UK is a national charity that believes that no-one who has served our country should have to battle blindness alone. It provides blind and vision-impaired ex-Service men and women with lifelong support including welfare support, rehabilitation, training, residential and respite care.
Find out more at: www.blindveterans.org.uk, and follow us on Facebook at: facebook.com/blindveteransuk and on Twitter at: twitter.com/blindveterans.