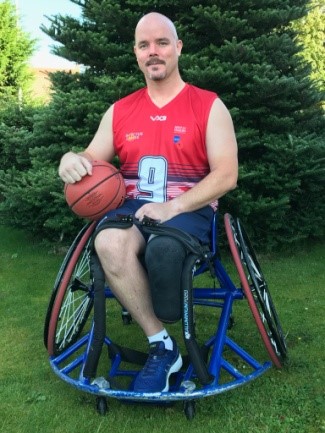 An RAF Regiment veteran, who will take part in this year's Invictus Games, has spoken out about how sport helped turn his life around when an accident left him with life-changing injuries.
Michael Mellon, of Cardenden, was just 17 when he joined the RAF in 1997 following his father, sister and brother into military service.
In 2001, while playing in a RAF Rugby match, Mike fractured his tibia and fibula bones which resulted in compartment syndrome. Compartment syndrome is a painful and potentially serious condition caused by bleeding or swelling within an enclosed bundle of muscles – known as a muscle "compartment".
Michael was subsequently downgraded in his role as a Gunner which meant he was unable to deploy overseas.
Michael, 37 admits: "In the Regiment you become extremely close to your co-workers, you are a family and so I really struggled watching them all leave for Afghan while I was left behind. I kept thinking to myself, 'I wish I was going with them'."
In 2005 Michael was medically discharged from the RAF and decided to relocate to his wife's hometown in Fife, to start a family. Facing the daunting prospect of transitioning to civilian life Michael suffered from depression and was unable to leave the house.
Michael explains: "At my worst I was 20 stone and pretty much housebound. I was out of a job, my wife was now the bread winner and it started to affect our marriage.
"On top of everything I was really struggling with the pain from my leg injury and I lost all of my confidence."
In December 2013, due to his on-going health issues, Michael took the difficult decision to have his leg amputated.
Facing a long recovery ahead, things began to improve when he was reintroduced to sport. Previously a keen sportsman, Michael was now facing life as an amputee and a wheelchair user.
That's when the RAF's leading welfare charity, the Royal Air Force Benevolent Fund, stepped in and supported Michael with funding towards a specialised wheelchair, enabling him to compete in various wheelchair sports.
Michael says: "The specialised wheelchair made such a difference and helped me massively during my rehabilitation, I am very thankful to the Fund for their support.
"When I first had the operation, I regretted it, the pain was still unbearable. But as time went on the pain subsided and now it's minimal.
"Having the operation has enabled me to get back into sport. Being a Gunner, I was really into my fitness and so when that was taken away, it was difficult.
"I joined a local athletics club Pitreavie AAC and later applied for the Invictus Games. When I found out I had made the team I was chuffed! I feel a lot more positive about things now.
"Meeting people who have similar stories to mine is great. Before I was selected for Invictus, the only other amputee I'd spoken to was my granddad, who lost his leg due to ill health. Now suddenly I'm speaking to other people in their 20s and 30s who have similar injuries.
"It feels like I'm back in the RAF again. My confidence has grown so much and I feel like I'm starting to enjoy life again. I'll be taking part in sitting volleyball, wheelchair basketball, discus and shot-put which I'm really looking forward too. I'm already thinking about the 2018 Games!"
Paul Hughesdon, Director of Welfare and Policy at the RAF Benevolent Fund, said: "The rehabilitative nature of sport has been well documented and Michael is a prime example of the difference it can make. We are incredibly proud to have been able to help him and we wish him all the very best at his first Invictus Games."
Joining him in Toronto will be his three kids, Ryan, 12, Eve, 10 and Sarah 6, along with his wife and parents.
ENDS
For more information and high res images please contact:
Brooke Harrison-Davies, Communications Executive at RAF Benevolent Fund
E: brooke.harrison-davies@rafbf.org.uk | T: 020 7307 3351 | M: 07825 172447
RAF Benevolent Fund: The Royal Air Force Benevolent Fund is the RAF's leading welfare charity. We exist to support current and former members of the RAF, their partners and dependants, whenever they need us. In 2016 we spent £17.6m supporting more than 65,000 members of the RAF Family.
For more information visit:  www.rafbf.org Twitter: https://twitter.com/RAFBF