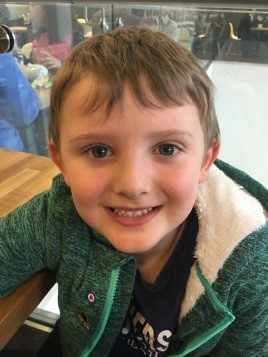 Henry Conway, who turns six on 31 October, decided to give his birthday money away after seeing an RAF charity's advert on television.
The RAF Benevolent Fund's latest TV ad, titled Show Your Pride, features Battle of Britain veteran Stan Hartill, double amputee Stuart Robinson and widow Jacqui Thompson.
Watching with his parents, Leo and Elizabeth, Henry was immediately moved by the ad.
Leo, 50, said: "We'd been talking to Henry about what he wanted for his birthday. When he saw the ad, he said 'Daddy I think I should give them some money'.
"I asked if he wanted it as part of his birthday present and he said 'yes' straight away."
Henry was delighted to find out he could help, so Leo went online and made the generous donation on Henry's behalf.
Leo continued: "He's always been such a caring child that always wants to share. At only five years old it surprises me how socially conscious he is and how comfortable he is around adults, especially the older generation, he naturally gravitates towards them! This might  be why he was so inspired to make a contribution after seeing Stan on television."
The charity supports current and former members of the RAF, their partners and dependants providing financial, practical and emotional support. Last year, they spent £17.6m supporting more than 65,000 members of the RAF Family.
Leo concluded: "When Henry received his thank you card in the post he was chuffed. He's been wearing his RAF Benevolent Fund pin badge ever since.
"We are beaming with pride, and always are. He's a very special little boy who we love to bits and he makes us laugh every day."
Henry will celebrate his birthday at his hometown of Redditch with a family meal and a bowling party with friends later in the week.
ENDS                                                
For more information and high res images please contact: Brooke Harrison-Davies, Communications Executive at RAF Benevolent Fund. E: brooke.harrison-davies@rafbf.org.uk | T: 020 7307 3351 | M: 07825 172447
Watch the advert here: https://www.youtube.com/watch?v=1U_qSVKhvHE
RAF Benevolent Fund: The Royal Air Force Benevolent Fund is the RAF's leading welfare charity. We exist to support current and former members of the RAF, their partners and dependants, whenever they need us. In 2016 we spent £17.6m supporting more than 65,000 members of the RAF Family.
For more information visit:  www.rafbf.org Twitter: https://twitter.com/RAFBF