Alabaré are delighted to team up with the BBC's Sewing Soldier, Lt. Col. Neil Stace to announce the launch of 'Flags of Thanks'. The collaborative art project will form part of the 2019 Armed Forces Day celebrations hosted in Salisbury.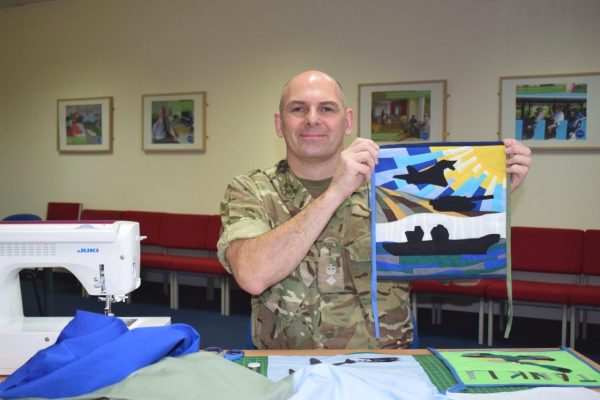 The nation will be asked to create hand crafted flags that demonstrate gratitude and support for the Armed Forces Community, from those currently serving, to veterans and cadets.
The fabric flags can be either quilted, appliqued or embroidered and include military themed images or literal messages of thankfulness. They will then be displayed in a public exhibition during the event in June, in the City's oldest Church, St Thomas's.
Afterwards, the general public will be able to sponsor having a flag made into a practical item, such as a sleeping bag or quilt. Their sponsorship will go towards Alabaré's Homes for Veterans, helping to change the lives of Armed Forces Veterans who are  homeless and vulnerable.  Lt. Col. Neil Stace, also known as the Sewing Soldier following his appearance on the BBCs Sewing Bee, will be spearheading the project, running workshops and transforming the flags into quilts, sleeping bags and ponchos.
Lt. Col. Neil Stace says;
"I am delighted to be supporting Alabaré in their Flags of Thanks project. The work they do with military veterans is truly inspiring."
For more information or to arrange an interview call Harvey Taylor on 01722 344485.
Notes 
At Alabaré we support people to overcome the barriers of homelessness, mental ill-health and learning disabilities in-order to have a home, health, choice and independence.
Alabaré Christian Care and Support provide the highest standards of accommodation and support to disadvantaged and vulnerable people in our communities in order that they can have a home, health, choice and independence. Since 1991, Alabaré have been working with people facing disadvantage through homelessness, mental ill-health, learning disability or a combination of these.  We provide housing and personalised support based on the individual needs and aspirations of each person, tackling underlying causes and giving them the skills and confidence to move forward with their lives.