Sir Arthur Pearson, newspaper publisher and founder of sight loss charity Blind Veterans UK has been commemorated with a blue plaque today (26 June). The plaque marks the Grade II* listed house on Portland Place in Marylebone where he lived with his wife and some of the first blinded servicemen supported by the charity, then known as St Dunstan's, in the later years of the First World War and just afterwards.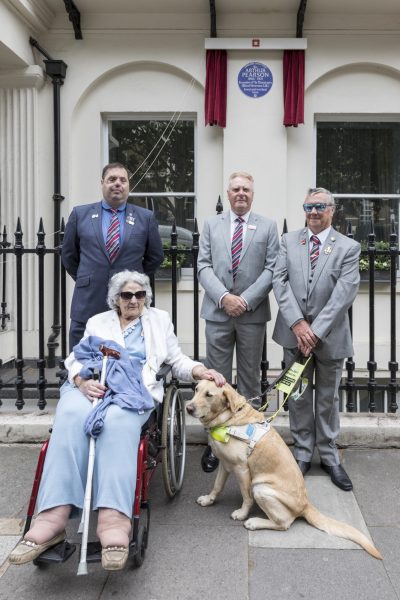 Pearson made his fortune as a magazine and newspaper magnate, founding the Daily Express in 1900 and later acquiring The Evening Standard, but turned his attentions to campaigning for the blind after he began to lose his sight in 1913 due to glaucoma. He went on to play a significant role in on-going social and legal battles for recognition of the rights of those with disabilities and was instrumental in changing the public perceptions of blindness.
Established as a charity during the First World War, St Dunstan's helped around 3,000 blinded servicemen and went on to care for and offer training and rehabilitation to those blinded in the Second World War and subsequent conflicts. Tens of thousands of ex-servicemen and women have benefited from the charity's assistance in rebuilding their lives after sight loss.
As Pearson wrote, 'I wanted them to be led to look upon blindness, not as an affliction, but as a handicap; not merely as a calamity, but as an opportunity' (Pearson, Victory Over Blindness, 1919, pp. 12-13).
Chief Executive of Blind Veterans UK, Major General (Rtd) Nick Caplin CB, said: "Sir Arthur's mantra of achieving Victory Over Blindness still guides the principles of Blind Veterans UK to this day. We now support veterans of every generation regardless of when they served or how they lost their sight but his original mission is still at our core.
"I'm sure Sir Arthur would be proud that his legacy is still being felt by thousands of blind veterans today, over 100 years after he lived in this house with some of the very first blinded veterans of the First World War."
One of the blind veterans attending the unveiling was Peter Price. Peter has been supported by Blind Veterans UK since 2010. He is 70 and lost his sight due to cone dystrophy. Since then he has gone on to become a very keen and successful blind archer holding many records in the sport.
Peter's Grandfather, Ernest Sayers, also had cone dystrophy and lost an eye during the First World War. He started to be supported by the charity the year before Sir Arthur Pearson died. Peter still carries his Grandfather's Braille watch, these were given to all blind veterans when they joined St Dunstan's. Blind Veterans UK still provides a watch to every new veteran it supports today, although these are now talking watches.
English Heritage's Chair of the Blue Plaques Panel, Ronald Hutton, said: "Arthur Pearson was a tireless advocate for blind people, particularly those blinded in the service of their country and we are delighted to celebrate his legacy here today, where he lived for a number of years, at a house once listed in the street directory as 'Pearson's Hostel for Blind Officers'."
The plaque was unveiled by Sir Arthur Pearson's Great-Granddaughter, the Hon. Marya Egerton-Warburton and Colin Williamson, the President of Blind Veterans UK. The building the plaque is displayed outside is now occupied by the Association of Anaesthetists.
Blind Veterans UK:
Blind Veterans UK helps vision-impaired ex-Service men and women of every generation rebuild their lives after sight loss. Since 1915 the charity has provided rehabilitation, training, practical advice and emotional support to tens of thousands of blind veterans.
Blind Veterans UK currently supports more blind veterans than ever before in the charity's history, but it knows there are many more who still need its support to rebuild their lives following their sight loss.
For all other media enquiries please contact:
Mark Wheeler, PR Manager
E: mark.wheeler@blindveterans.org.uk
W: blindveterans.org.uk